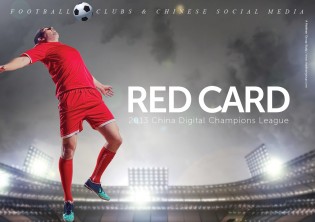 Football lovers might want to take a look at Mailman Group's latest study about Chinese social media and its relation to the European football clubs. The report shows that, ultimately, Barcelona, Manchester United, Bayern Munich, and Real Madrid football clubs have the most competency in terms of their social marketing and digital presence in China. The study also identified quite a few fake fans on Manchester City and Chelsea's Chinese social pages.
The study analyzed 14 top football clubs (all of them are European clubs) who collectively have 15.6 million digital fans on Chinese Twitter-like services Tencent Weibo and Sina Weibo. That's out of over 500 million users on each of those two social sites.
It explains that the researchers did not analyze Facebook-esque Renren because there aren't that many football club pages there yet – so the focus is on the two different Weibo services, which have been important platforms for brand social marketing in China for a few years. The football clubs are analyzed based on total followers, official presence, engagement rate, localization, and popularity index. The result is as pictured below: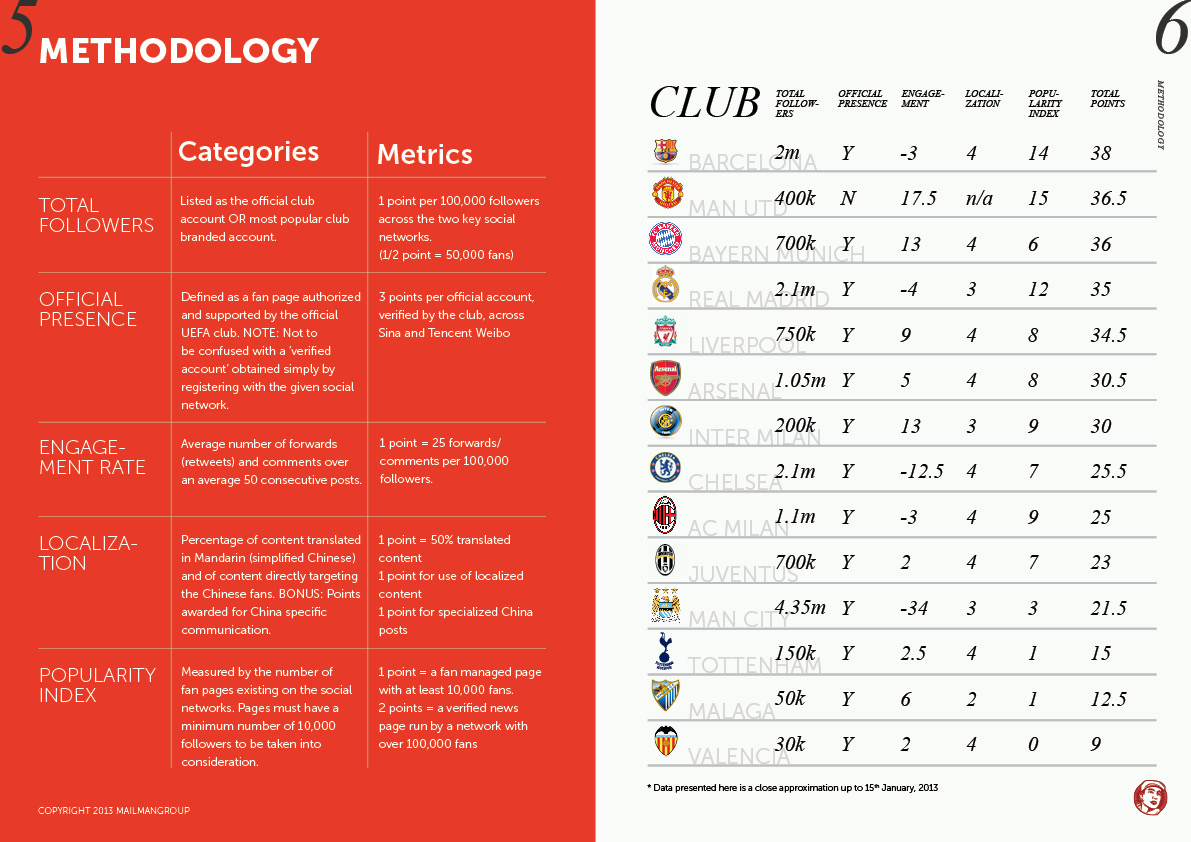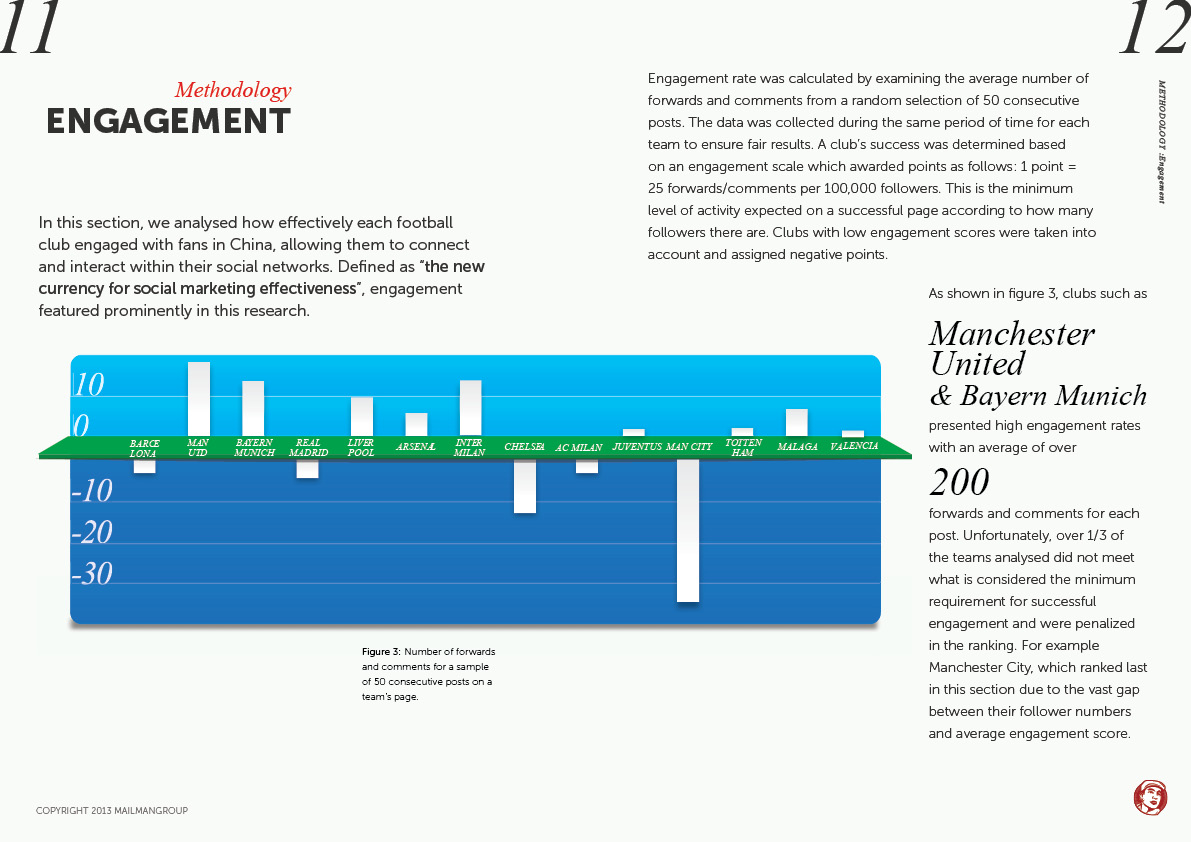 The part of the report I found interesting was the engagement rate analysis among Chinese netizens. It found that Manchester United and Bayern Munich are the top two football pages in that respective area. Despite Manchester City having the most number of followers – four million; almost twice that of second place Chelsea's 2.1 million – both clubs seem to have a lot of fake followers as they recorded the worst score for user engagement in comparison to its follower numbers. That means that either the fans are consistently quiet, or that they are – as we said – fake 1.
Superstar players lure Chinese followers
The study then shows the top reasons Chinese fans follow a particular football club. Superstar players like Barcelona's Lionel Messi and Real Madrid's Cristiano Ronaldo played an integral part in their club's huge field of followers. Other reasons are the club's league ranking and history. The influence of friends and family only played a very small role: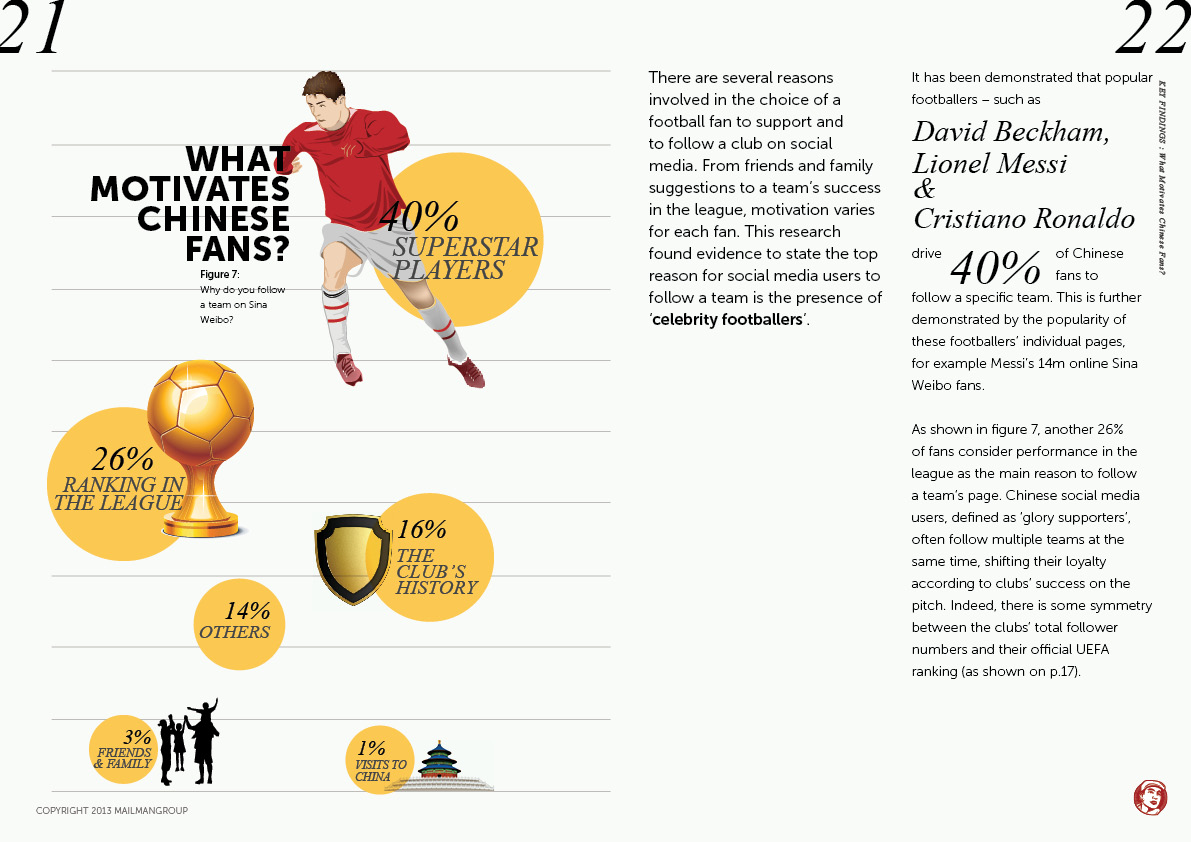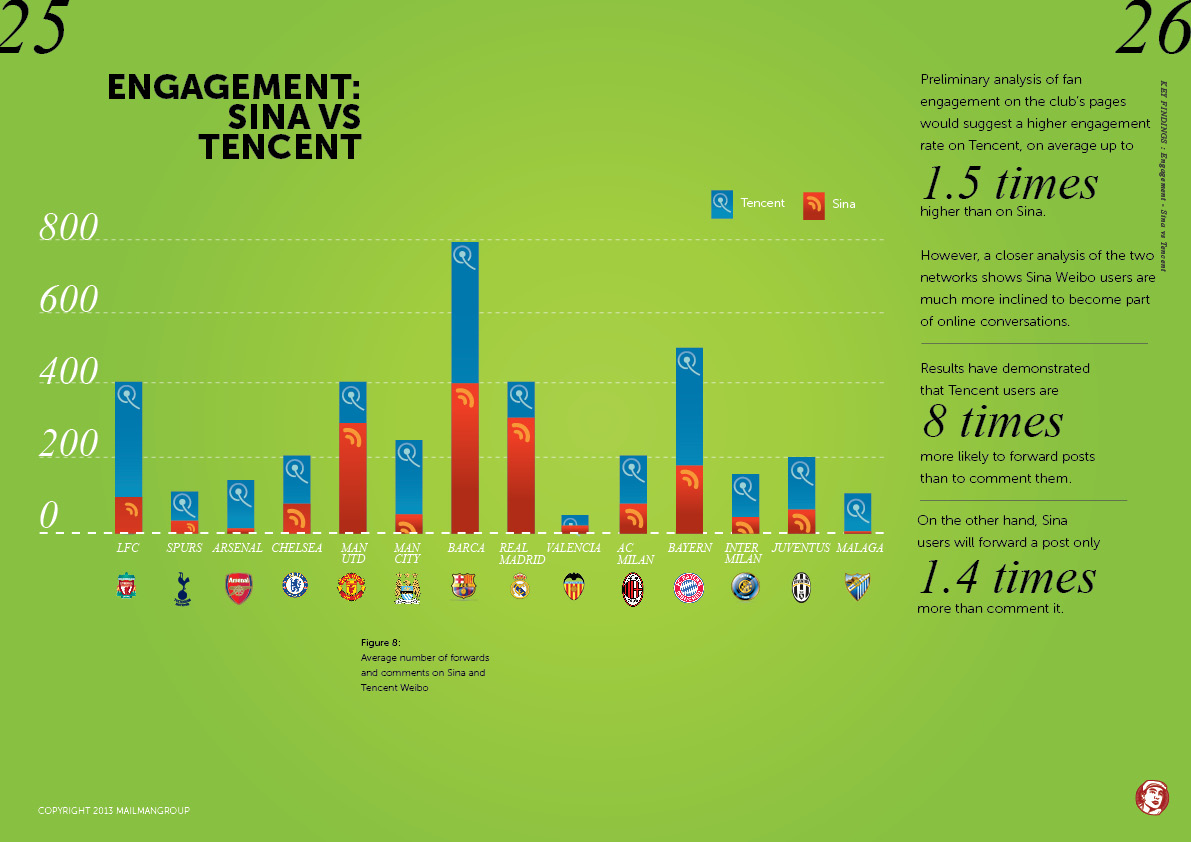 Perhaps surprisingly, about 32 percent of Chinese football fans are female. The reason for this, the study explains, is that most football matches are watched at home as an opportunity to spend time with family and friends. Another point the study highlighted is the 'sex factor' where female fans support the team which has a bunch of attractive footballers.
Lastly, the study found that there's higher user engagement on Tencent Weibo compared to Sina Weibo by a factor of 1.5. Sina Weibo users, on the other hand, are more likely to join in the conversation rather than just forwarding posts made by the teams.
Brands, celebrities, and sports stars have been a key battleground between Sina Weibo and Tencent Weibo since they both started. While Sina Weibo seems to be China's zeitgeist-defining social media service, Tencent has been fighting back by actively recruiting stars to join – such as Portuguese footballer Cristiano Ronaldo.
You can check the full study in its entirety here.
---
Note that Manchester City and Chelsea are awarded negative points in the user engagement field due to the penalization over the clubs' lack of engagement with its users.
↩