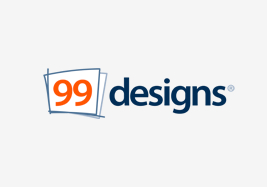 Earlier this week design marketplace 99designs acquired European rival 12designer for an undisclosed sum. For 99designs, this marks an important step in its expansion in Europe, of course, but what about the company's plans for Asia? We got in touch with CEO Patrick Llewellyn to find out how 99designs might proceed in the region.
He prefaced by pointing out that the company already has a significant amount of users in Asia. Over the past year alone, over 55,000 designers have signed up in their top five Asian countries. Understandably, since they only offer English services so far, 99designs is most popular in countries where English is widely spoken. Places like Singapore, Hong Kong, and India are among countries where it enjoys popularity, and they hope to leverage that moving forward as they expand:
As we've always enjoyed strong word-of-mouth referral from happy customers, it makes sense to build on our existing customer base in the countries where we already have a good presence. That being said, countries like Japan already have a strong appreciation of design and the Japanese are quick to adopt new technology and ways of doing things, so that's certainly an interesting market that we'll continue to track. For designers we enjoy strong and vibrant communities in places like Indonesia, Philippines, and India.
So considering the recent acquisition of Germany's 12designer, is local acquisitions a strategy that 99designs wants to bring to Asia. Or is the company going to put more focus on localizing its services? In short, says Patrick, it depends:
We're still early in our international expansion plan and we'll be approaching each new market on a case-by-case basis. Over the past five years, we've gained a lot of experience. […] Where we find like-minded, innovative teams that share our vision of finding better ways to connect businesses with talented designers, partnering is certainly an option.
He also notes that like any other company that wants to localize for Asia, there is the obstacle of adding languages that don't use a Latin alphabet. But Patrick is also quick to note that the bigger challenges are likely cultural ones, not the least of which will be understanding how customers in various Asian markets use services like 99designs:
Having good people on the ground and listening carefully to customers in each market will be key to getting this right.
It will be interesting to see how 99design's gameplan unfolds, as there are already a number of competing services which have spring up over the past few years (see The Creative Finder and Sribu, for starters). But from the point of view of both customers and designers, it will certainly be useful to have more options available.