UPDATE 21-05-2014: Robin "Sagacious" Ng was mistakenly quoted as having said mobile gaming will not overtake PC gaming. He originally said mobile would not replace PC gaming. We have edited the article to reflect this.
Asiasoft's Robin "Sagacious" Ng, shared his thoughts on projected trends in Southeast Asia yesterday at Casual Connect Asia 2014.
Ng, the head of international business, prefaced his projections for PC gaming with some statistics about Southeast Asia.
There are a total of 630 million people in the region, with 195 million of those being internet users, and 162 million being social network users. In total, there are 689 million mobile subscriptions in Southeast Asia.
Of the total 630 million Southeast Asia inhabitants, 544 million hail from countries known as the big six: Thailand, Vietnam, Philippines, Indonesia, Malaysia, and Singapore. The other 86 million are from Myanmar, Cambodia, Laos, East Timor, and Brunei, countries that are expected to grow soon, and grow fast.
Ng also included the following chart detailing the internet, mobile, and mobile social penetration in the big six countries.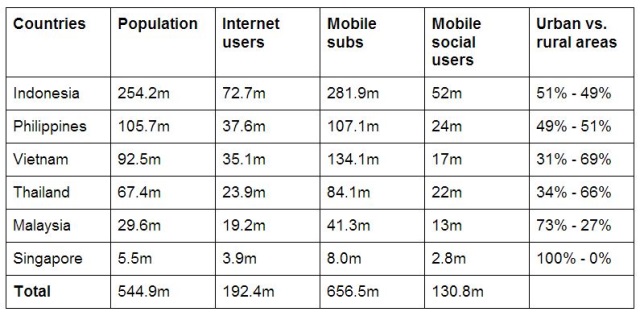 He also shared that Southeast Asia is in general a young region, with over 70% of people in emerging countries aged 34 and below. The biggest internet users were the ones aged 15 to 24, followed by the 25 to 34 age group. Singaporeans aged 35 to 44 were the biggest internet users in their regional age range.
This is another interesting chart (replicated for your reading pleasure) that Ng shared. It shows how much time internet users in Southeast Asia spend on the desktop and on mobile.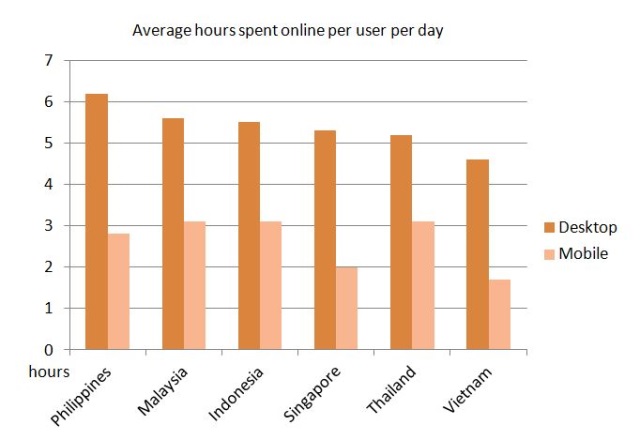 Ng also had regional statistics from 2012 to 2014 for online PC game revenue; however we are omitting the 2014 data as the year isn't complete yet.

Vietnam has been a consistent top spender in online PC games in the region, topping the charts for two years in a row.
Singapore is the lowest spender in the region owing to its small population size, but beats Vietnam in terms of average spend per user: (about $20.50 ASPU for Singapore versus Vietnam's approximate $14.70). The countries with the next lowest online games revenue are Philippines and Malaysia respectively. This is a breakdown of the number of online game players in the big six countries for 2012 and 2013:

Based on these statistics, Ng believes that eSports is the next big thing, with certain aspects of Southeast Asian gaming culture—cybercafes in particular—fuelling the growth of competitive gaming. The high concurrent and active users of competitive game genres is also a good indicator of eSports being a focal point in Southeast Asia's future.
Ng summed up this portion of his talk by saying that he doesn't believe mobile will replace PC gaming.
(Chart data: Robin Ng via We Are Social and Niko Partners)