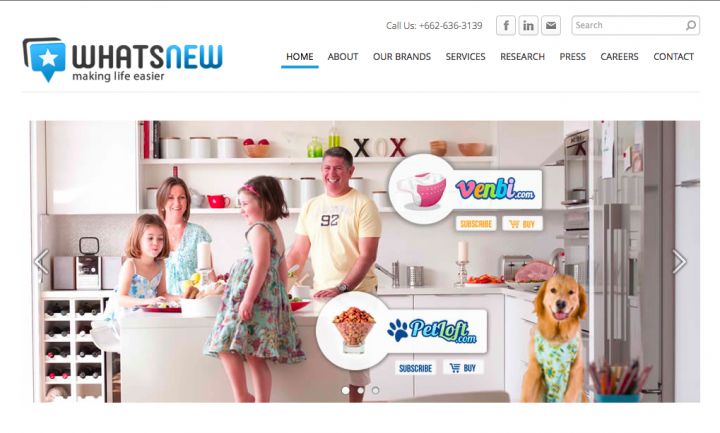 Have you heard of Quidsi? The name might not be too familiar, but it might ring a bell when I say it's an American company that owns and operates e-commerce sites in various verticals, including Wag.com, Diapers.com, Soap.com, and seven others.
The company, which now has ten sites under its belt, was acquired by Amazon back in 2010 for $545 million, when it only operated in three verticals. Inspired by Quidsi, WhatsNew was launched in Thailand and hopes to see the same success.
Backed by Ardent Capital, which was started by Paul Srivorakul who sold daily deals site Ensogo to Living Social, WhatsNew owns and operates e-commerce sites including Petloft and Venbi, which sell pet and baby products respectively. WhatsNew interlinks each site to one other, allowing customers to use one login and one shared checkout to buy from all websites under the company.
Early signs of life
Harprem Doowa, WhatsNew COO, believes this business model will help it succeed:
This model has been proven in the US by Quidsi and we are the first to implement such a model in Southeast Asia. So far we have launched two verticals successfully.
Copying a proven success business idea has been Rocket Internet's expertise. Learning from that, WhatsNew wants to prove that modeling after Quidsi is a good idea. Since it is the first in Thailand to do that, this can give the company a head start.
According to WhatsNew, both of these sites have become number one in their respective categories online reaching up to a combined 100 orders a day. The site conversion rate at the moment from visitor to purchaser is around 0.80 percent to 1.32 percent. It has around 150,000 monthly unique visitors.
WhatsNew's stocking and logistics is provided by another of Ardent Capital's business aCommerce, the company that handled logistics for the Line Flash Sale in Thailand.
Future plans
Besides Petloft and Venbi, WhatsNew plans to add a third site called Bodyden in a few months. This site will focus on health and beauty products. By Q1 next year, the startup expects to have four verticals in Thailand up and running. Harprem explains that the company is eyeing Southeast Asia, with Philippines slated as the first expansion market.
We look to be competing in Southeast Asia only as we feel that this is the region where the growth will be highest and current competition is lower. This is also our area of expertise as our directors have had experience expanding regionally with Ensogo before. This gives us a competitive advantage.
(Editing by Terence Lee)