Indonesia's Eloku is a cloud-based solution to keep track of delivery services. The startup is run by hardware specialist Didi Setiadi and software specialist Argo Wibowo.
Didi explained that the biggest problem in Indonesia's logistics service sector is with 'proof of delivery' (POD). There are three big issues he identified. The first one is with real-time delivery reports; he said that delivery men usually report deliveries once they are back at the office, which usually wastes a lot of time, especially if they work late and only go back to base the next day. The second one is the use of traditional paper receipts for POD, which are prone to being misplaced. Third, it's often hard to implement recipient identification via signatures, which becomes an issue when the customer has a complaint about the order. Eloku hopes to solve all those, and for reasonable prices.
Didi explains that those problems don't exist among larger logistics companies such as FedEx and DHL. The key is the hardware solution to keep track of these PODs. FedEx and DHL use Motorola devices which enable delivery men to simply scan the sticker on the package to send an immediate report via GPRS that the package is delivered. The delivery men then also take a picture of the recipient's face as part of the full report, which is done using the same device. No paper receipts are involved. Unfortunately, such hardware costs a huge chunk of money – Didi says $2,500. Eloku is looking to provide this kind of top-end logistical hardware at more affordable prices to smaller delivery services in Indonesia, either by selling or renting the device.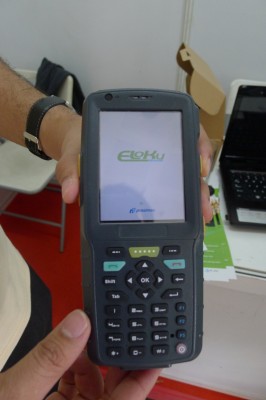 Didi explained that his hardware devices still cost quite a lot of money at the moment, but hopes to get that down to about $200 each in the near future when the demand volume for the device is higher. When this happens, the startup can lower its hardware prices even more for the logistics companies. This in the end will help strengthen Indonesia's e-commerce scene by solving one of the toughest infrastructure problems.
Eloku is set to be launched in January 2013. Didi says that he would like Indonesia's startup scene to be not only focused on building great software apps, but also hardware solutions. He said that Silicon Valley has great startups from both worlds, and Indonesia should do the same. He hopes that he can help build the hardware startup ecosystem in the country.
Eloku is one of the three startups that graduated from the Jakarta Founder Institute a couple of days ago. Another one was Pouch. Stay tuned for the third, coming up soon!