We told you about Terra Motors a few months ago – they're the company that is keen on being the Tesla Motors of motorbikes. In a lot of ways, this Japanese startup is trying to breath new life into the Japanese manufacturing industry, which is losing out to vastly improved Korean giants like Samsung. Now, after lots of testing and fine-tuning, the Terra Motors is finally announcing its A4000i and A4000. They're electric motorbikes specifically targeted at the Asian market.
Terra Motors is hoping to ship 100,000 of these models by the end of 2015. The A4000i , which is being sold in Japan, is going for JPY 450,000 ($4,500). The A4000, which will be sold in markets like Vietnam, will be a lot cheaper, according to Shingo Hayashi, but no price is set yet. The two electric motorbikes will allow you to drive around for roughly 65 kilometers before the battery runs out. That's ample for folks who are just driving back and forth to work everyday. In total, Terra claims that the battery will last for over 50,000 kilometers before needing to be replaced. That's five times the average of the usual Chinese e-bikes.
But the real kicker for Terra Motors is the fact that you can stick your own smartphone and use it as the dashboard of the motorbike. Currently, the models support iPhones only. It allows you to check your battery power, collect data on your mileage, see your electricity consumption in real time, and even find location information. The interesting thing about the location information is that Terra will even be open to pushing advertisements to drivers while they're driving around. Terra is even hoping to get third-party companies to build on top of their A4000-specific app. And of course, given Vietnam's taste for stealing iPhones, the dashboard locks the iPhone in place so that nobody can steal it while you're motoring along.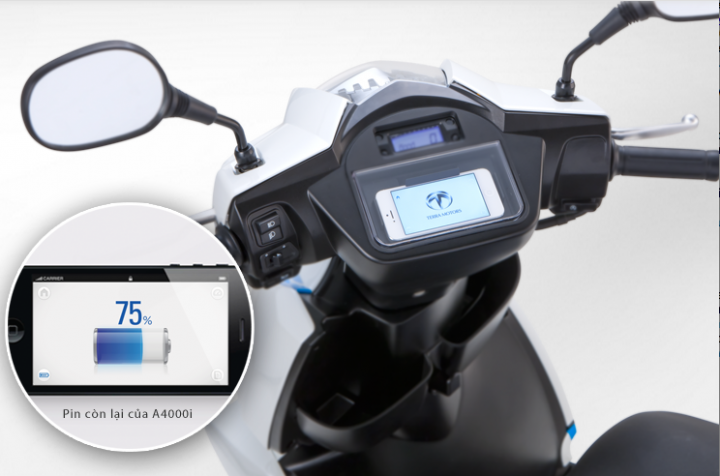 Is it possible that Terra Motors is the beginning of the first step into getting quality electric motorbikes on the road and into the hands of consumers? The Chinese e-bikes that overran Asian markets for the past decade have fallen short with dwindling battery power and a not-so-fashionable reputation. Everybody knows they're cheap. Terra Motors is seeking to be the opposite, giving the perception, like Tesla, that electric can be a luxury.
Personally, I'm rooting for Terra Motors to succeed because I want to see less smoky streets. The problem is I don't quite have the cash to throw down on a motorbike like this yet. In Vietnam, the average nice motorbike could cost around $1,000 (in China, a good one is just $200 to $250), but luxury motorbikes go all the way up to $10,000. But that's all in Terra Motors plan.
By the end of this year, Terra Motors will be launching its motorbikes in Vietnam, with the possibility of launching them across Asia, depending on dealerships they can find.
(Editing by Steven Millward)