I got to speak with Elance-oDesk's VP International Kjetil Olsen and Australia country manager Kyrie Theos earlier this week about the launch of their Australian office and their new research on online work. I regularly mobilize an online team, and was eager to talk to them about what Elance-oDesk is sailing towards now and its future prospects.
Australia is outsourcing
I outsource regularly and appreciate its value. My business in Australia currently has eight people including myself working remotely for my mobile app consulting company. I am familiar with these marketplaces as my business has hired 11 people on Elance-oDesk and 5 designers on Fiverr, and we've run eight design competitions on 99designs.
Although I was using online outsourcing, I had not realized how big the industry had gotten in Australia. I was surprised to find out from Elance-oDesk that Australia is the second largest client market in total value globally and, according to Elance-oDesk's latest report, is the top online hiring country per capita. In the past three years, Australian businesses spent US$145 million and increased online hiring by 235 percent. In 2013, Australians spent US$60 million on Elance-oDesk.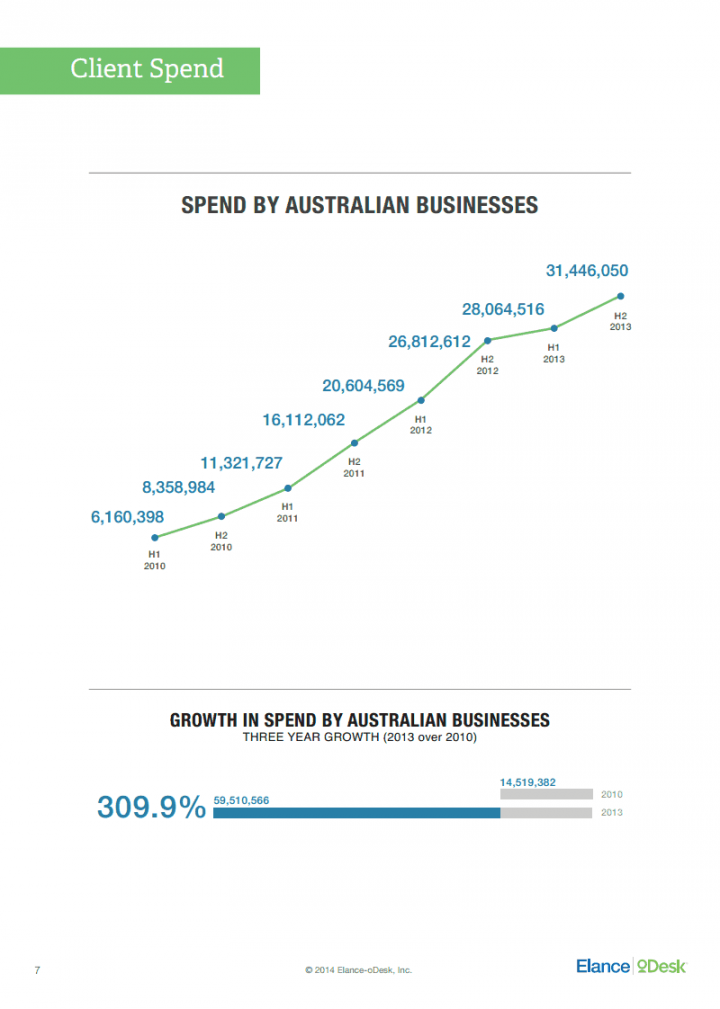 This means that this method of sourcing talent is working and will continue to grow for years to come, with implications for SMEs and contractors alike.
Online hiring in the past: only for the brave
In the past 5 to 10 years, only the brave among the small businesses and startups dared try this approach. Some tried it out to cut costs, but employers were never sure if the job would get done. Employers were apprehensive to rely on somebody in another city (or country, or continent), and risked not receiving the agreed work on time.
This reluctance was not one-sided. Contractors, too, were wary about the whole setup of working on projects owned by someone far away. What if the client decides to not pay for the services after receiving the output? Collecting payment required too much trust. The possibility of going weeks without was daunting for any contractor.
Fortunately, some websites took to organizing a meeting place between talent seekers and service providers. Two of these, Elance and oDesk, were among those that provided a trustworthy online venue for professionals dedicated to the exchange of services. Elance was started in 1999, while oDesk started in 2005. The two online freelancing giants merged last year, with combined earnings of $750 million in 2013. Freelancer, one of their competitors is also based in Australia and is listed on the Australian Stock Exchange.
Today: Reasonable arrangement for business
Today, Australian businesses tap online talent for many reasons. A survey by Elance-oDesk shows 81 percent of respondents hire online because of cost and flexibility of employing talent when needed. Saving time was also a crucial factor as companies cited speed of hiring (59 percent) and fast work completion (42 percent) among the other reasons. Only one-third mentioned quality of work as a reason to contract labor online. Doing away with the need for equipment and office space was also a plus for some companies (29 percent).
Australia has a promising market with 2013 Australian freelance earnings just over US$5 million. Based on freelancer earnings, the largest markets for hiring Australians are the US, Australia, the UK, Canada, and New Zealand.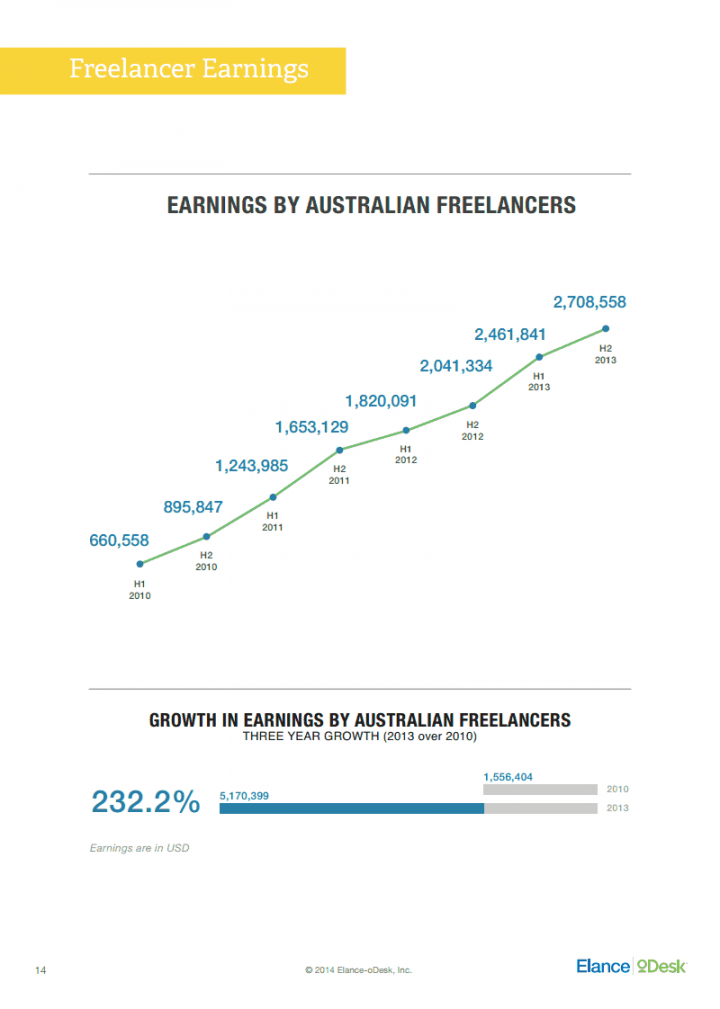 Future: More diversity, higher level talent, and finding better matches
Based on surveying 600 Australian businesses, the top skills Australian companies are looking for are predictable enough: web development, design, writing, online marketing and administrative services. These skills have traditionally been outsourced as they can be delivered online and worked on remotely.
However, there is more talent to source beyond IT and communication skills. With the different ways that communication has improved recently, speed and reach of the internet means that more type of skills will be employable online. Olsen says that the skills being demanded online are becoming more diverse. "In the last 12 to 18 months, clients are becoming more advanced in hiring. They have used Elance-oDesk to look for electrical engineers, data scientists, 3D modeling artists, lawyers, accountants, and financial analysts."
Another example is an Australian client hiring the former head of marketing at Mozilla. Elance-Odesk is increasingly seeing more high quality and experienced talent being hired.
To take advantage of their data, Elance-oDesk has data scientists crunching variables from preferences, past hiring behavior, hiring patterns, and jobs successes. In the future, it will make smarter recommendations on who should hire whom. For example, if you are hiring a web developer, in a couple of weeks it can suggest that you need a web designer. If you have already hired a web developer and a designer, you may need to hire someone to write content for your website.
In the future, a business could input more variables like size, type of skills needed, customers, business activities, business goals, and trajectory. Combined with the information it knows about similar businesses, Elance-oDesk could make even better recommendations on who to hire and when. With the eight million freelancers on its platform, it could also provide data on a macro level of trends in the labor market, skills that will be in demand, skill shortages in countries and cities, and what type of new businesses are emerging.