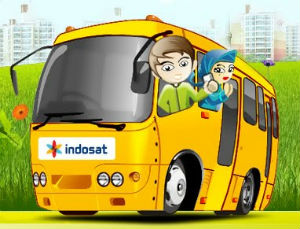 During Ramadan, Indonesian telcos are busy upgrading their services. It also means hard work for SIM card and phone voucher sellers. They play a big role in telcos bringing in more income from sales across the nation. To show some appreciation, many telcos helped them to return to their hometowns for Eid for free.
The tradition of homecoming for Eid is undeniably troublesome and expensive since most transportation tickets are sold weeks before Eid. But for telco frontliners, it won't be a problem because many telecommunications companies are providing free transportation for their retail employees.
Free and Comfy Ride Home
This year XL Axiata is providing 16 buses, 25 cars, and eight trains to accommodate 1000 XL retailers to return to their hometowns in southern Java island. Similarly, Smartfren sent 3,200 retailers home with 80 buses, shuttling workers across Central and East Java, and even Sumatra. Indosat will run 12 buses to send 650 Indosat Outlet Community members to various towns in Java.
These vehicles are also equipped with mobile trackers, liasion officers, and even wireless internet connections to make sure staff members are safe and comfortable.
Telco Resting Points
Besides sending out buses and trains, many telcos are helping the general public by setting up rest points along numerous routes through Sumatra, Java, and Bali. Indosat itself set up 1,695 such posts to help travelers on their way, replete with maps, phone credit vouchers, mobile phone stores, and also resting places where weary travelers can recharge their mobile gadgets during the long trip.
These resting points are important for travelers who rely on their mobile devices on the road. It's a form of community service from those telcos. For many companies, this gesture could pay dividends down the road in building employee loyalty. This is particularly important for salespeople, as they are seen as the face of the company, in direct contact with customers.
[Image]