The folks at Kotaku reported recently that the Eedoo CT-510, China's home-grown video game console/motion-sensing DVD player (which Eeedoo is now calling a "family room exercise computer") had sprung a few new models and dropped in price. This, as it turns out, is only half true; the CT-510 retains its egregious $600 price tag, but there are a few new options.
Customers looking for something cheaper can go with the CT-310, which features just 32 GB of storage space but does cost $475, making it a significant savings over the CT-510 (which has 250 GB of storage space). For those who aren't so concerned about money, the CT-520 is now available too, offering 320 GB of storage space for $630. Aside from the storage differences, the three systems are exactly the same.
This price adjustment is pretty meaningless, as the lowest-priced model still costs about double the price of a gray-market Xbox 360 with Kinect, but Eedoo tells us that with the devices set up in new shops, they expect to be making "decent profits" in their retail outlets by the end of the year. One of the new shops, we were told, sold more than thirty units in a month. That's almost one per day! Eedoo says it is still feeling good, though: "Opening a market with a new product is difficult, but we are full of confidence," a rep told me.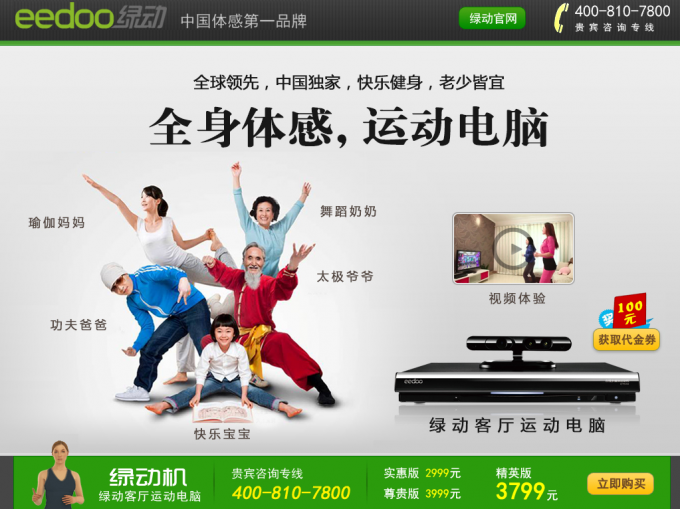 Along with the new models, Eedoo has also launched a brand new website that allows users to purchase the devices online. The new site is slickly designed, although it requires a bunch of scrolling and the videos are all hosted on Youku, meaning they require you to watch preroll ads that have nothing to do with Eedoo. At present, it appears users who do make a purchase can only pay with cash on delivery, there is no option for using Alipay or any other kind of online banking. But the devices are available on Taobao, too, so consumers who want to use Alipay for their purchase will still be able to; they just can't buy it directly from Eedoo's site.
Or they can just go to the retail shops and use a card, at least when the shops actually staffed. In his recent article, Kotaku's Eric Jou found one of the company's mall locations apparently abandoned, but Eedoo reps explained that the empty shop wasn't staffed because "there aren't many people during the week." The weekends are apparently much better, and to prove this, the company provided us with photos like the one below showing interested crowds checking out the new Eedoo shops. So, uh, if you're looking to buy a CT-510 at retail, we'd advise you go on the weekend.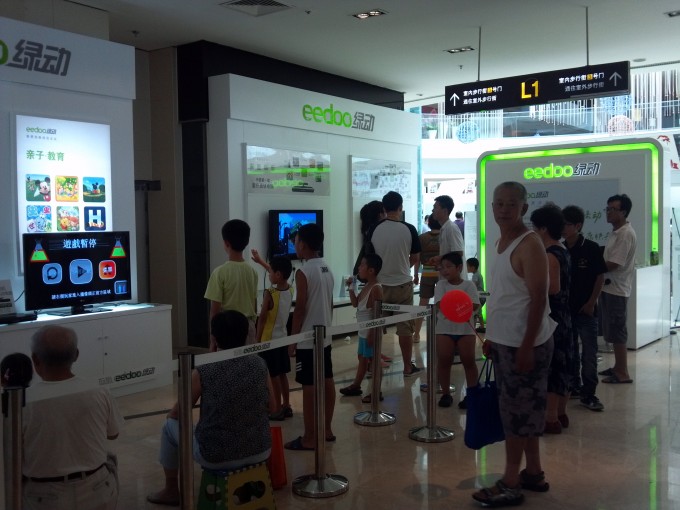 All this new stuff is nice, but I don't think any of it is going to address the CT-510's biggest problem: its price. Although it offers a few extra features (like an e-reader, because people love reading books on their TVs), it's still basically an Xbox Kinect without the game selection or the controller-based games, and it's still more than double the price. I do think there's a market for this sort of device in China, but Eedoo, I suspect, is still missing it.