E-commerce is a massive industry in China. This sector presently generates revenue close to 2 trillion RMB ($315 billion) and there are plans set by the authorities for the industry to hit 2.8 trillion RMB ($441 billion) by 2015.
There are thousands of e-commerce sites in the Chinese market, where literally almost anything can be bought online. So which ones have made the biggest impact in China's online shopping space? We have shortlisted over 20 e-commerce sites below which we think you should look out for. Read on!
---
C2C
---
1. Taobao.com
Alibaba-owned Taobao is no stranger to e-commerce industry. The C2C giant sells almost everything, literally, from notebooks to vehicles. Unlike its western counterpart, eBay, Taobao owes its success as the market leader in this industry by notably offering free registration for its users.
---
B2C
---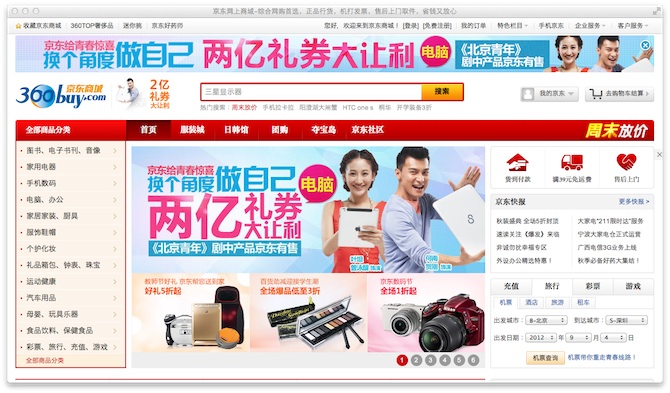 2. Tmall.com
Another Alibaba-owned business, Tmall focuses on B2C services. Its a virtual mall that plays host to many brands' main online retailing presence, notably companies like Gucci, Calvin Klein, Burberry and many more. Our most recent market share report notes that Tmall is the leader by a wide margin with 41.5 percent of revenue in 2012 Q2.
3. 360buy.com
360buy, the 'other' giant in China's e-commerce industry, covers mainly electronics, home appliances, clothing, and books. The site also has its own online travel service, and a mall for luxury brands at 360Top.com.
4. Suning & Gome
Suning, is an electronics retailer that operates stores across the country. But it is transforming itself into an e-tailer so as to avoid the disastrous fate of the brick-and-mortar industry. It is interesting to see how the company uses its experience in the industry to conquer e-commerce in China. Our recent stats suggests it's now up to fourth place in the B2C sector. Gome, a close rival of Suning and 360buy, also principally operates retail shops selling electronics and electrical appliances. As the market slowly diversifies into e-commerce, and as more customers turn to online shopping, Gome is also transforming itself into an e-tailer to keep pace with the market.
5. QQ buy
QQ buy, an e-commerce site owned by Tencent, aims to bring competition to the industry that is heavily monopolized by Tmall and 360 buy. QQ buy focuses on brands and labels, and also allow rival, specialist e-commerce sites to open up virtual storefronts on its site.
6. Dangdang
DangDang, the e-tailer specialist that sells almost everything from clothing, shoes, to gadgets, also has an e-reader and e-book service which launched recently in April. Called the Doucan, the Kindle-like e-reader is highly integrated with Dangdang's own e-book store. Customers are able to purchase e-books from within the Doucan device.
7. Vancl
Vancl is China's largest clothing e-tailer. It sells its own brand of clothing and makes them affordable for shoppers. It has recently started shifting production overseas in an effort to cut labour rates and beat the country's rapidly rising production costs. The company also runs the mall-like V+ site which hosts other clothing brands.
8. 51buy & Coo8
51buy is an e-commerce site selling mostly home appliances and gadgets. The site is heavily financed by Tencent, China's internet giant. Coo8 is a subsidiary of the electronics retailer, Gome. The site mainly sell gadgets and IT-related products as well. It has a very similar product area to 51buy.
9. Yihaodian
YiHaoDian is the country's largest food and consumables e-commerce retailer. Products range from food to toiletries, and recently it has been diversifying into clothing and electronics. Walmart has a controlling stake in Yihaodian and the partnership became official last week.
---
Group Buy Sites
---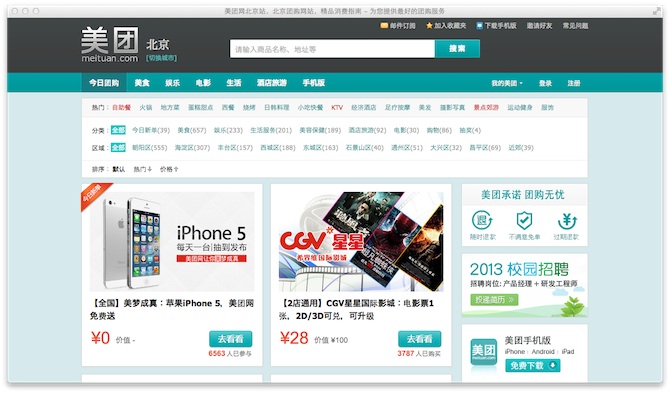 10. Meituan & 55tuan
Meituan and 55tuan are long-standing market leaders in the group-buy industry. They offer deals and discounts that are usable in many cities, such as at restaurants, cinemas, traveling agencies, etc. The two sites account for approximately 26 percent of the daily deals market in China according to the most recent data, with a monthly revenue of 200 million RMB.
11. Dianping
Dianping is a group buy site that offers more than just deals and discounts. It is similar to (but actually pre-dates) Yelp in the US, and it started its online journey with reviews and listings. As such, Dianping has been expanding exponentially, with its revenue growing at thirty percent since the start of the year.
12. Taobao Juahuasuan
Juhuasuan is a deals site owned by Alibaba, and located at a subdomain of Taobao, ju.taobao.com. Despite the slump in the group-buy industry, Juhuasuan continues to perform exceedingly well. The site sold 57 percent of all product-based deals, more than all of its rivals combined. It's the market leader at present, with 21.5 percent market share by revenue.
---
Vertical Commerce (also B2C)
---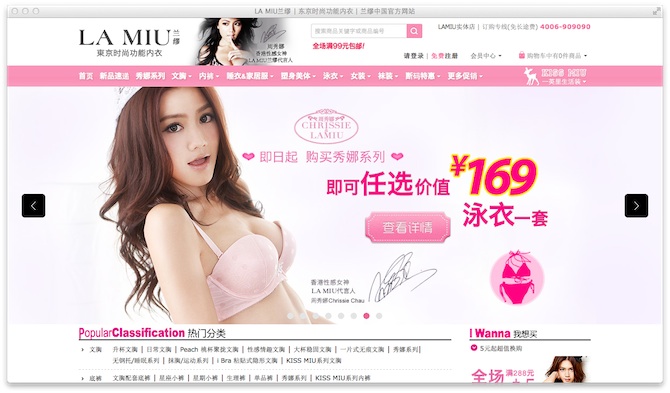 13. Mbaobao
The ladies will love this one! Mbaobao is a specialist e-commerce site in China that focuses on women's bags. The e-tailer has received a fourth round of funding and we'll likely see expansion coming up.
14. Redbaby
Redbaby specializes in baby-products, and was one of the early leaders in the B2C e-commerce industry in the country. As competition steepened, its market share decreased, raising questions about the feasibility of its business model. There were rumors that Gome or Suning, the electronics retailers mentioned above, are interested in acquiring the baby-product retailing site. Nothing has been confirmed yet.
15. Jiuxian
Jiuxian is an e-tailer that specializes in selling wines and spirits. The wine retailer has expanded its storefronts this year, and it has a virtual store on Tmall and Dangdang as well. It wrapped up major series C funding just recently.
16. La Miu
La Miu is a specialized e-commerce site that focuses on selling lingerie. It is not just an e-commerce site, but one that designs and manufactures its own underwear. The founder aims to provide a sort of luxury shopping experience like Victoria's Secret in US, but yet make it more affordable as well.
---
Flash/VIP Sales
---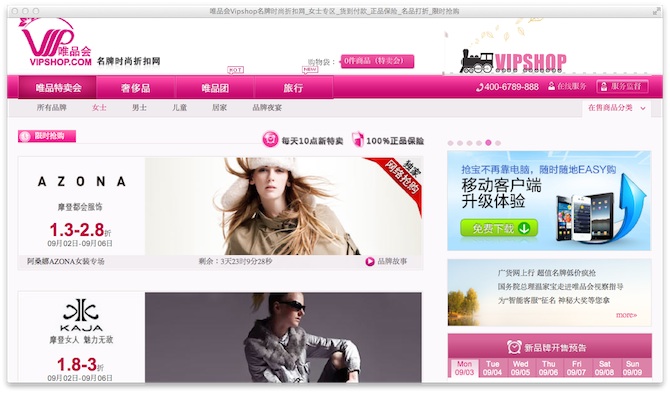 17. Vipshop
VIPShop focuses on discounts and flash sales. The online retailer partners with over 1,000 brands to bring certain amounts of items at a lower price for consumers. The site mainly covers clothing and electronics. It was one of very few Chinese tech stocks to list in the US this year.
18. FClub
FClub operates on the same model as VIPShop. It got $30 million in funding very recently and might well follow VIPShop along the IPO route. The site was launched in 2009, and it sells mainly mid-range clothing and accessories, as well as some luxury items. The site has partnerships with over 1,500 brands to buy up items and re-sell them to members within a period of five days.
---
"Referral" Commerce
---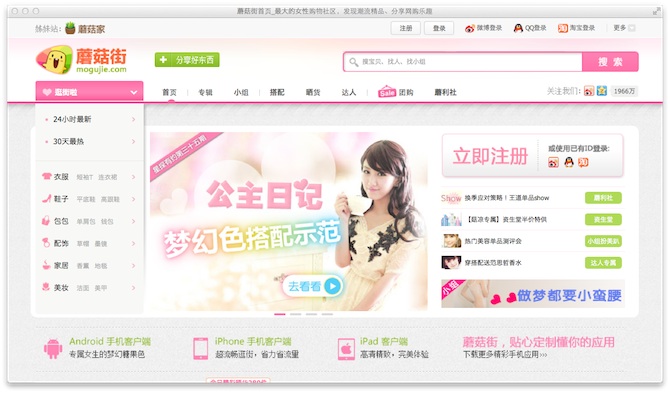 19. Meilishuo, Mogujie
These are the sites that drive traffic to other sites, mainly to Taobao.com. Mogujie and Meilishuo are more than just Pinterest clones. They are e-commerce referral startups that function as aggregators of different products listed on other e-commerce sites. Online shoppers will select and pick the items they want, perhaps led there by someone sharing an item via social media, and they will be redirected to the product's original site for payment. According to Mogujie's own stats in April this year, the site attracts 2.2 million visitors each day who browse 750,000 items on Taobao every day, and end up buying 60,000 of those.
20. eTao
eTao is a prices comparison site owned by Alibaba. The site aims to help consumer compare price and eventually bring them to the cheapest e-commerce site to make the final purchase.
---
So that's it folks, if you have any other sites to recommend, kindly add them in comments below.