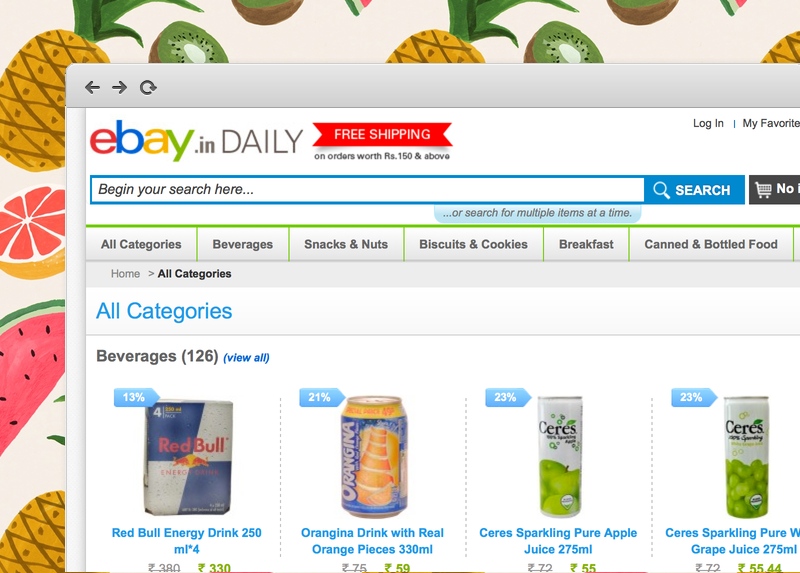 In an eerie bit of coincidental timing, both eBay India and homegrown e-commerce site HomeShop18 have added food and groceries to their product ranges starting from today. In their respective announcements, eBay says it has 1,600 products ready for Indian e-shoppers – mainly packaged things like cookies, cereals, drinks, and sauces – while HomeShop18's line-up is limited to an odd assortment of only "olive oil, drink concentrates, and mocktail syrups".
HomeShop18 will add ready-to-eat items in the coming months, the Amazon-esque company points out.
The new range on eBay (NASDAQ:EBAY) is dubbed "eBay Daily". Deepa Thomas, eBay India's e-commerce evangelist (not my phrase) explains the move:
We see a huge opportunity for the international packaged foods product line in the non-metros where the demand is still unmet. On the other hand, our metro consumers will be delighted with the convenience of buying these products online.
HomeShop18's food category hasn't yet been added to the homepage for some reason. The Indian company hopes to see the "food category becoming mainstream" on its site alongside its many other specialist categories, such as books, clothing, and electronics.
India's dynamic e-commerce sector has been concentrated on clothing, paper books, and general purpose stores such as Flipkart and Homeshop18 itself. Specialist food e-commerce sites have been a relative non-event in the country, in contrast to their success in China.
So if you're in India and in the mood for some cookies, head to eBay India; or if you're a recovering alcoholic who cooks a lot of Italian food, check out HomeShop18.