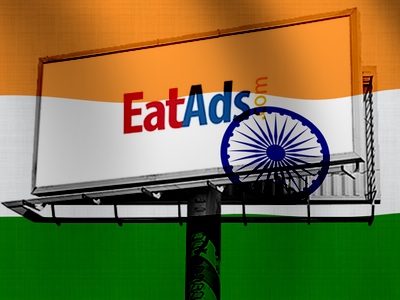 EatAds, the Singapore-based startup that's an online platform for buying and selling offline adverts, has today revealed that it has entered the Indian market. Just as the online ads industry has been revolutionized by such services, EatAds aims to do the same for outdoor and out-of-home (OOH) media.
It enters India with one major company already onboard in the form of Times OOH, which is a local powerhouse in outdoor, road-side and landmark advertising. EatAds already has over 100 media owners listed in Singapore, Hong Kong, the Philippines, Bangladesh, Thailand, and now India as well. The platform has over 6,000 outdoor ad listings.
EatAds co-founder Nigel Hembrow says in today's announcement:
Being such a large and fragmented country, we had always suspected a need for EatAds in India, and over past months all the India buyers and sellers we have met here have validated this need. We're excited to be working with our Delhi- based partner to grow our user base in India.
You might recall that EatAds raised seed funding last December. The startup got back into action in October 2012 after remaining dormant for a while as co-founder John Fearon was focusing on building Dropmysite and Dropmyemail. Now EatAds's expansion is beginning all over again having previously scrapped some of its earlier overseas moves.
After today's India launch, EatAds is teasing more expansion in the region which will be announced soon. I get the feeling it'll involve Myanmar and Cambodia or some other market where the outdoor ads industry is fragmented, under-utilized, and somewhat chaotic.