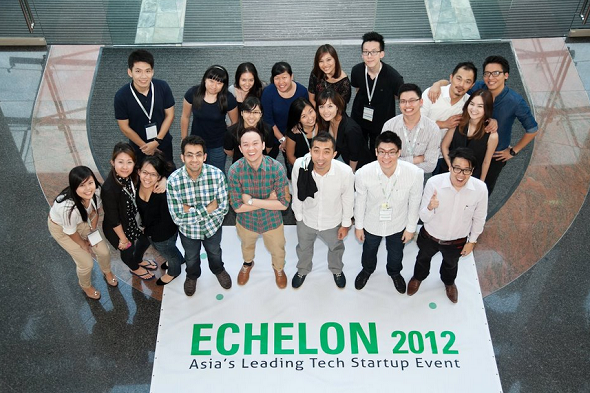 e27, a Singapore-based tech blog and startup events organizer, announced today that it has secured USD 613K in funding from B Dash Ventures in Japan, Pinehurst Advisors from Taiwan, Thailand's Ardent Capital, Dan Neary from Singapore, as well as other angel investors, whose names are undisclosed.
Founded in 2006, e27 — which stands for Entrepreneurs 27, with the number representing the median age for startup founders worldwide — focuses on reporting tech startup news, technology trends, and personalities in the ecosystem. It is also known for running Echelon, an annual tech startup conference held in Singapore. Other events that the company organizes include Echelon Ignite, a conference for younger startup ecosystems, and Founders Drinks, a monthly meetup around Asia.
With the investment, e27 will focus on broadening its operations in Southeast Asia, exploring more partnerships and joint ventures, growing its editorial team, and expanding the Echelon brand to more Asian cities.
This is its second round of investment; it closed the first round in early 2012 with 8Capita. The company was profitable last year, achieving a 20 percent year-on-year increase in revenue generated from a mix of events, advertising, and consultancy.
While events is the main revenue driver, the company foresees more income coming through advertising and content partnerships. It recently also relaunched 27x.co, essentially a database of startups and investors that's very similar to CrunchBase.
While it is slated to expand its coverage of Southeast Asia, the investment from B Dash Ventures could mean that e27 will focus more on Japan.
"With e27's involvement in various Asian startup ecosystems, it should also become easier for Japanese startups to expand their businesses to Asia, as well as facilitate a greater flow of information between Japan and other regions," said Hiroyuki Watanabe, CEO of B Dash Ventures, who will join e27's board, which consists of co-founder's Mohan Belani and Thaddeus Koh as well as 8capita's Nic Lim.
This investment follows the trend of Japanese investors and startups looking outwards for business opportunities.
Beyond Japan, B Dash has also invested in Taiwan's Cubie, known for its mobile messaging app, and Fresvii, a mobile games development studio in California. Meanwhile, Japanese firms like GREE Ventures and CyberAgent Ventures have been seeking investment opportunities in Asia and the world.
E27 is the second tech blog from Singapore to announce an investment this year. Last month, TechinAsia, which covers North Asia in addition to Southeast Asia, revealed that it had received funding from Simile Venture Partners and East Ventures.
These developments indicate that the tech startup ecosystem in Asia is maturing, since media interest naturally follows investment interest.
We're even starting to see TechCrunch, a prominent tech blog from the US, expand its coverage in Asia by hiring a couple of reporters: Victoria Ho from Singapore and Catherine Shu from Taiwan. Meanwhile, TheNextWeb, which has been covering Asia since 2009, has also bumped up its coverage of the region. US-based PandoDaily too has devoted plenty of attention to the continent.
All of these are in addition to the numerous native-born tech blogs that are already out there, including DailySocial, Yourstory.in, BeSuccess, Digital News Asia, Next Up Asia, and many more.
Altogether, these publications represent the next generation of media businesses that are on their way to replace newspapers as the default gatekeeper of news.
With internet advertising rates depressed by an oversupply of online inventory, media entities are now frantically exploring different ideas to sustain themselves.
What's clear is that there isn't going to be a silver bullet: TechCrunch, e27, and TechinAsia are organizing events to diversify from advertising, while TheNextWeb is trying out online classes and even building its own productivity apps. PandoDaily has ventured into ebooks, while SGE is focusing on premium research reports and market intelligence.
It seems like the era of advertising-driven niche magazines is nearing an end as web publications dissolve into other business models in search of revenue opportunities.