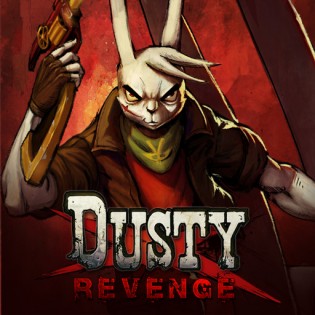 Singaporean game dev PD Design Studio has launched a 2D hack-and-slash game called Dusty Revenge on online gaming platform Steam Greenlight recently, and they are looking for your votes to make the game available on Steam's online store.
Keng Jin (aka: KJ), the co-founder of PD Design Studio, describes Dusty Revenge as a 2D side-scrolling beat-'em-up game. As the name implies, it tells the story of the main character exacting his revenge throughout the Wild West-themed game. KJ said that it took the studio two years to develop Dusty Revenge, which has seen the game's graphics change from having cute animals into the serious-looking and bloodspattering creatures you see today. He explained further:
We wanted lots of good, old-fashion action and thus the revenge theme came in. Additionally, the idea came when we were watching lots of revenge-themed movies.
KJ believes that the special thing about the game is its supporting character mechanics, which allows the player to control three types of characters – a fighter bunny, a heavy arms wielding bear, and a sharpshooter dog. These characters play particular roles – for example, you'd want to call the artillery bear's help when faced with a huge cluster of enemies, or the sharpshooter dog when you need help taking out pesky enemies in some inaccessible places.
Dusty Revenge will be made available for PC and Mac. The 10-man team is also looking to release the game for Playstation 3 and PS Vita, which will have a two-player mode, in the future. KJ said that he is still unsure about the game's age/suitability rating, but he definitely wouldn't recommend it to kids under the age of 12, as you'd see by all the blood in the game trailer.
PD Design Studio actually started as a multimedia company back in 2006. KJ explained that incidentally, the company's first job was on a Flash-based game and they happened to do lots of them over the next few years. After changing the company's focus to solely games development, they've also made two iOS games, Alien Masher and Move Caster – besides the current Dusty Revenge.
You can check out Dusty Revenge over at Steam here, and if you think the game's worth your money, be sure to vote for it there.
Related: