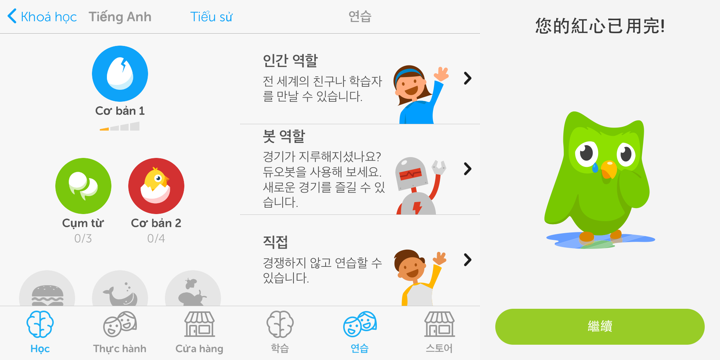 After successful iOS launches in Japan and China, language-learning app Duolingo has officially expanded into five new Asian markets. Users in Korea, Taiwan, Hong Kong, Vietnam, and Indonesia can now study English on the go – for free.
Co-founded by reCAPTCHA inventor Luis von Ahn, Duolingo not only makes language learning fun through gamification, but acts as a crowdsourced translation platform for the internet. In the same way that reCAPTCHA is used to digitize books, the simple translations that Duolingo users complete as they progress through language lessons are actually micro-translations of web content.
Support for Chinese and Japanese, the first Asian languages to be embraced by Duolingo, was added in April. More than 1.5 million Chinese iOS users signed up in the first week alone – a sudden spike that led China's internet censors to temporarily block access to the app. The Japanese iOS app rose from the 50th most popular education app in April to its current rank of number 12 without any advertising. An Android version was also launched in Japan yesterday.
In South Korea, the land of Samsung and LG, both Android and iOS versions of Duolingo were rolled out yesterday. Just hours after launch, the iOS version skyrocketed to the number five position overall on the Korean App Store. Both apps were also launched in Vietnam and Indonesia, the first Southeast Asian countries to receive Duolingo support. Traditional Chinese versions of both apps were also released in Taiwan and Hong Kong.
See: How a Vietnamese education startup uses Google Glass to teach English
Von Ahn explains to
Tech in Asia
his company's interest in the Asian market:
It's Duolingo's mission to bring free language education of the highest quality to the world. We know there is a very high demand for learning new languages, especially English, in a large number of Asian countries. However, supply of high quality language education is not only scarce but expensive. We would like to help people gain better life opportunities by learning languages for free on Duolingo. We also know that many countries in Asia are very tech-savvy, and that people love games. As such, we think the [new] markets are perfect for Duolingo.
Von Ahn says that there are no specific targets as far as user acquisition in these new markets, but stated that Duolingo has "high hopes" in Asia. He also says that the app will expand deeper into Asia, but isn't sure what countries will be supported in the next rollout.
"Though the language incubator, our community can apply to create language courses under the mentorship of our team, using our course specifications and platforms," Von Ahn says. "So the possibility for new courses is endless. However, the ones we launched [yesterday] were our biggest priorities in terms of potential adherence to Duolingo and the known desire for English education."
According to Von Ahn, Duolingo currently boasts 38 million registered users across the globe.