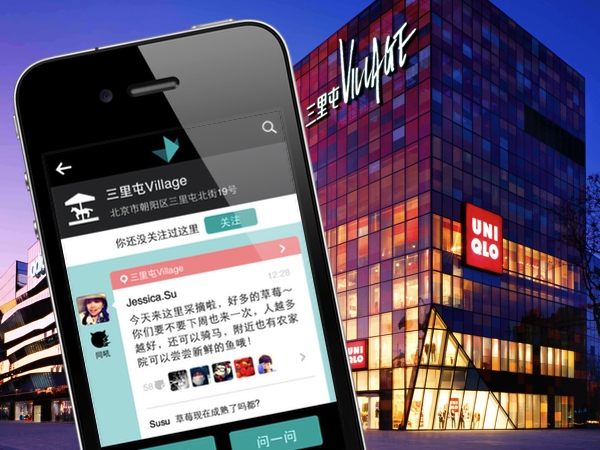 The Chinese start-up Douban.com has launched its own location-based service (LBS) and social network called DuiJiao. It comes with some surprising microblog-like twists.
DuiJiao launched this week with a stylish iPhone app already in tow, and an Android version promised to be in the works. Similarly with rival Jiepang.com – which we reviewed in detail last month – the new DuiJiao allows users to check-in to venues across China, and share their activity amongst anyone they choose to follow.
The new service joins a growing flock of Douban.com features which now range from movie and book reviews, user blogs and brand minisites to its original Last.fm-style music streaming.
DuiJiao has decided to open the gates a lot more by allowing Sina Weibo users to log-in and use all the features by connecting with their Weibo account, for a single sign-in solution. Douban users can, of course, use this new LBS with their existing account.
When at a location, DuiJiao's app (there's no standalone website for it yet) gives you the option to "roar" or "ask" (see the picture below), which is unusual compared to the usual "check-in here" that we've all grown accustomed to. The "roar" element actually equates with checking-in, while the more unique "ask" option is clearly designed to make the venues themselves into conversational focus-points – in a manner closer to a microblog – where you can ask questions as well as give share your expertise (offering useful tips being the more common procedure on LBS, such as Gowalla).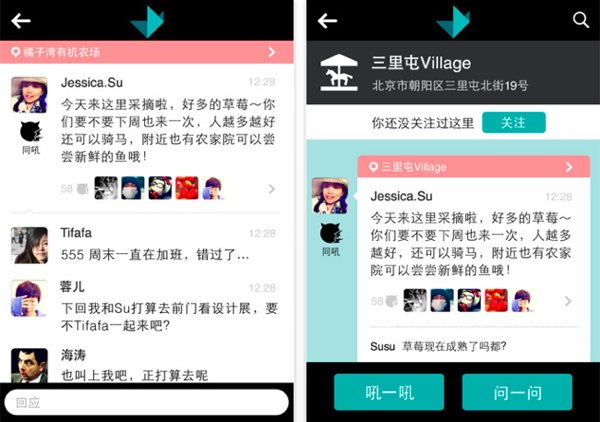 Another different approach within DuiJiao can be seen in the ability to "follow" venues, as well as individuals, which is, again, more akin to microblogging than LBS. Almost inevitably, parent company Douban will be wanting to get brands on board their new LBS, so that users can closely follow the action at a brand's stores.
Right now in the first week of operation it's alarmingly quiet in DuiJiao, and the version 0.1.0 app is very basic, yet stable. The company will be hoping that the ease of signing-in with your Sina Weibo account will speed things up, although the more-established Jiepang already offers this for both Sina and Tencent Weibo users.
On the plus side, DuiJiao has the most stylish Chinese-made app that I've ever seen and a lot of smartphone-toting Douban users that should be quite receptive to trying an affiliated new app.