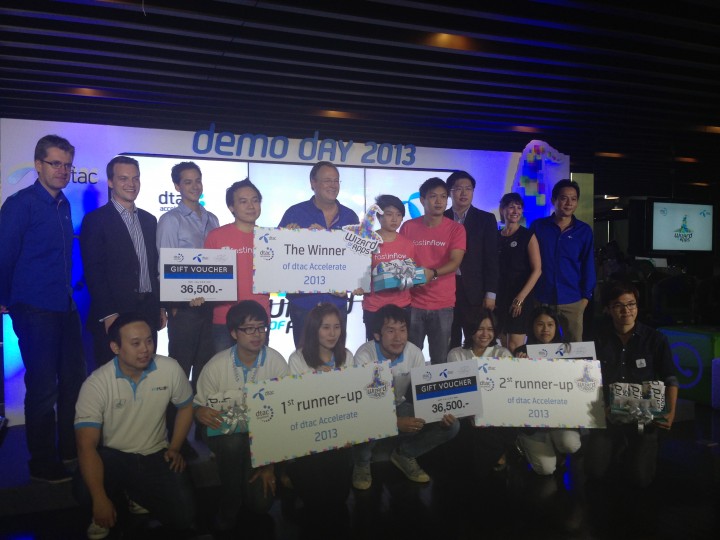 We introduced you to the 10 finalists at dtac Accelerate awhile ago. Today, after months of learning from gurus from both Thailand and abroad, dtac and its judging panel has chosen the winner. The winner of the first ever dtac Accelerate is FastInFlow.
dtac Accelerate was launched back in February. The program registered over 2,500 members, and more than 200 ideas were submitted. That means FastInFlow, a consumer research platform that allows marketers to get consumer insights within five minutes, fought a tough battle to get to the top of the pile. The judges say they were looking for three main things: 1. Smartass team, 2. Kick ass product 3. Big ass market. According to them, FastInFlow fulfills those requirements.
Jon Eddy Abdullah, the CEO of dtac, also added:
It's the winning team's responsibility to take what it learns from Silicon Valley to give back to the society, to the startup ecosystem, to Thailand.
All the teams had a chance to attend workshops and training by both dtac executives and entrepreneurs from Silicon Valley. Those included former Apple App Store editor Matt Monday, Blackbox Accelerator founder Fadi Bishara, founding partner of Golden Gate Venture Jeffrey Paine, and many more.
Prizes
FastInFlow, as the winning team, will participate in the Blackbox Connect program in Silicon Valley. The program is a two-week extensive tutorial that aims to cram in six months worth of experience and learning. In addition, all the finalist teams will receive support from dtac on further commercial development. According to dtac, the rewards given out for the whole program are worth THB 50 million ($1.5 million).
(Editing by Paul Bischoff)