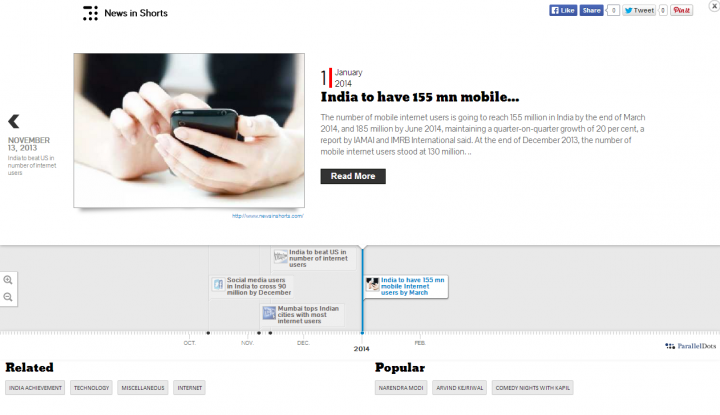 Getting new traffic to old content is a conundrum for most online publishers. "We talked with a few publishers about their archives, how much value they generate out of it," says Angam Parashar, founder of Indian startup ParallelDots. "And we almost got the same response from every one of them. They generate practically zero views on their archive even on the best of their content."
Parashar's solution is to incorporate timelines. Timelines are a great way for websites to leverage old content to create something new. They can drive traffic to older content, provide a comprehensive view on a broad subject, and use a fun interface to make things more interesting for readers.
The most common method for making interactive timelines on the web today is probably TimelineJS. The simple open-source tool pulls data from a pre-structured Google Drive spreadsheet. Tech in Asia has used TimelineJS before in a couple instances, including a Bitcoin in China chronology and a recent history showing how Huawei is taking over the world.
We can also testify, then, that filling in those spreadsheets is extremely tedious work. While TimelineJS is easy and looks great, inputting each link, image, title, date, and description is a tiresome task.
ParallelDots aims to streamline the process. ParallelDots can scrape a website's archives to automate the TimelineJS process, which means end users never have to so much as glance at a spreadsheet.
The company has a simple widget for WordPress, but other websites are trickier. "It is not a big deal to get the content from the websites which use WordPress," says founder Angam Parashar. "The problem comes in when we approach large publishers like Times of India. There we have to customize our scraper."
Times of India is the company's biggest-name client so far, but it hasn't gone live there yet. ParallelDots can also be used as a twist on the same old "related articles" section usually found at the end of story. "We allow publishers to recommend their popular and related content on a timeline," Parashar says.
Other than placing a logo in the timeline, there aren't many aesthetic customization options for end users yet, but Parashar says more are in the works.
See: How do India's major startup hubs measure up to those in the US? (INFOGRAPHIC)
Back to the future
Publishing is just the first of many verticals that ParallelDots plans to infiltrate. Parashar lists finance and scientific research as possible use cases. He says, according to his team's market research, no one else is doing this on a large scale.
One obstacle that ParallelDots now faces is mobile – TimelineJS looks downright awful on smartphones. The team is now developing its own UI/UX for a cleaner look.
Further down the line, Parashar envisions a native timeline mobile app similar to Pulse or Flipboard, creating a hybrid timeline and news reader. The content would be aggregated from the different websites that ParallelDots has scraped. "Timelines are generated on the fly based on what the user searches for," he says.
Here's one of our previous TimelineJS  timelines: