This post is a part of our coverage of Startups in Asia (Singapore), Penn Olson's first tech conference. Our full coverage of the event can be found here, for our RSS feed, click here.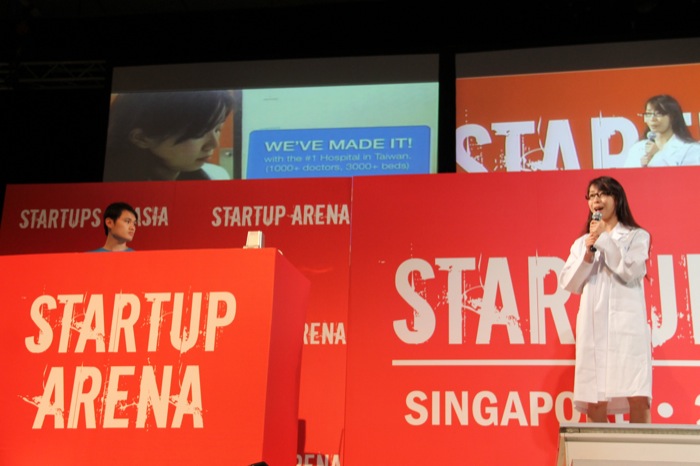 Dr. Pad is a Taiwan-based startup that aims to be "a painkiller for doctors' headaches." In essence, it is a mobile application designed to give doctors quick and easy access to medical data on the go. Co-founder Jacky Wang took to the stage this afternoon to explain exactly how that's good for everyone.
She says that while many of us are living in the smartphone-friendly world of ubiquitous mobile internet, most doctors are tied to desktop PCs to access patient records and other data. This means that when they're out and about in the hospital, they don't have access to records, images, and data that might facilitate and streamline their treatment of patients.
Dr. Pad, then, is a multi-featured app that's designed to give doctors with iPads access to all of that data while they're on the go. The team behind it isn't just techies and businesspeople either; the app has been developed in part by medical professionals, and further improved over the past year based on feedback from doctors in various hospitals who were able to use the app.
Because patient confidentiality is important, the app requires doctors to log in before displaying a dashboard that gives them a quick rundown of the current situation with all of their patients. From there, they can access all kinds of useful information from lab test results, medical images, and charts and graphs that show a patient's progress over time according to variables the doctor chooses.
The team is based in Taiwan because the medical technology market is growing faster in Asia than anywhere else on earth. For the purposes of increasing scalability, the app employs a "freemium" model that allows hospitals to implement it quickly and cheaply. Dr. Pad will make its money later down the road with paid add-ons and other additional features, once they've built a significant enough userbase.
I'm no doctor, but it certainly looks like a pretty comprehensive service, and Jacky Wang told us that the company has gotten great feedback from the doctors it has talked to – 95 percent of doctors said they'd recommend the app to other doctors. Giving doctors better, quicker access to patient information seems like a pretty good thing, so as long as the data is accurate and secure, it's easy to see why patients and doctors alike might get excited about Dr. Pad.
That said, the judges didn't let these guys off the hook either. They answered some hard questions about where, exactly, their IP was in all of this, and how easy it is for hospitals to integrate the app with the hospitals' existing systems.