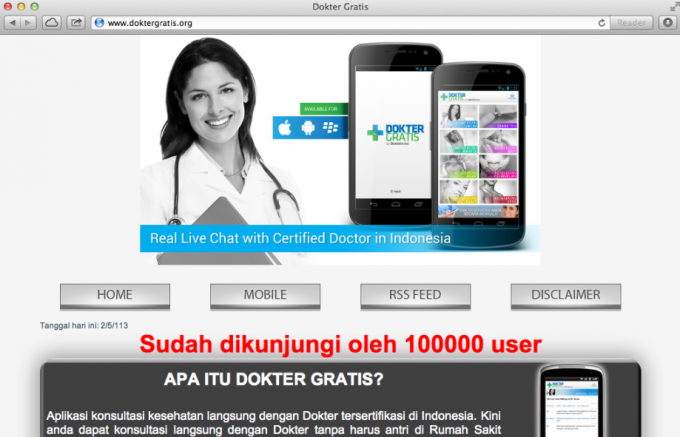 There are times when you might not be feeling well and have some medical questions, but you're not sure that those questions are even worth the trip and perhaps money to go to the doctor. There are also times when distance becomes an issue. This is where Dokter Gratis (meaning "free doctors") comes in.
Dokter Gratis is an app for people in Indonesia to get a live consultation with a doctor. I gave the app a try and I was able to text-chat with a doctor after being put on hold for just a bit. The doctor I talked to answered a few basic health questions. There are a few chatroom topics for people to choose from, like general health, diabetes, women's health, and baby's health.
The service so far looks good as a first step before making a decision to go to a hospital. I have confirmed with the team behind it that Dokter Gratis is 100 percent free, this is despite the written explanation on the terms and conditions page that only the first week of use is free.
500 health tips a day from your friendly doctors
There are two teams who helped produce the app. The first is Warung Kreasi which develops the app. Second is Medika Consulting which takes care of the chat function and social media operations. Dokter Gratis is also a partner of Singapore-based medical social platform Blabla Doctor.
At the moment there are 12 general practitioners to respond to all the chats every day. Working in shifts, it's claimed that a doctor has the capacity to handle about 1,000 chats per day. The app has so far been downloaded 130,000 times with around 500 chats happening each day.
Another medical-related app developed for Indonesians is Dokita, which was created by Jakarta Founders Institute graduate Aibilities. There is also a medical website created by a group of Indonesian doctors called TanyaDok. All in all, there are more online health solutions being made available here, which must be good news.
Dokter Gratis is available on iOS, Android, and Blackberry. Or you can also do a live chat via its website here.