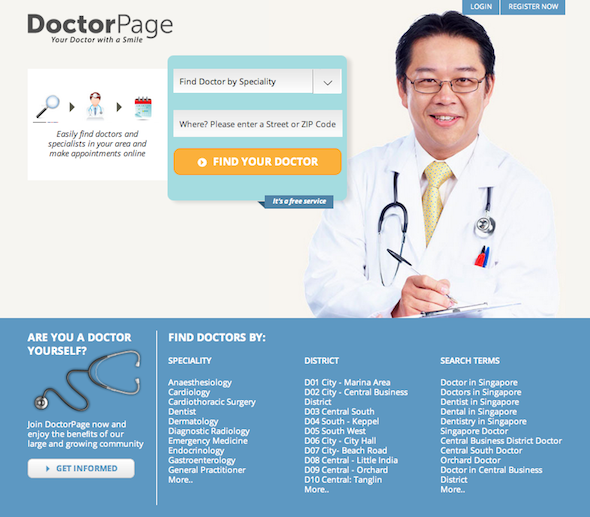 Upping the competition in the business of connecting doctors to patients is DoctorPage.sg. Launching officially today in Singapore with already 11,500 doctors in its database, DoctorPage is a real-time online appointment-booking system where patients book instant appointments according to the type of doctor they want to see, their insurance type and location.
Combining European and Asian e-commerce experience
Somewhat similar to two-month old DocDoc, DoctorPage is founded and funded by a group of experienced entrepreneurs and investors from Europe. The founding team consists of Max and Daniel, both of whom worked together at deals site, DailyDeal in Berlin, which was acquired by Google in September 2011.
Founder and CEO Max-F. Scheichenost was co-founder of the Austrian offshoot of DailyDeal and is also Founder and Managing Partner of Alps Venture, an Austria-based investment company. He is now based in Singapore for DoctorPage. Apart from DailyDeal, Max's co-founder and COO Daniel Endres has also chalked up execution experience by his working at the German incubator and cloning titan, Rocket Internet, at one of its furniture portal outfits, Home24 in Germany. (On a related note, the Singapore version of Home24 was shut down just a few weeks ago.)
Backing and funding these two men are four others who have much experience working on Germany's largest social network and working on deals sites across Asia: Rebate Networks' founder and managing director Michael Brehm (he helped build up VZ Netzwerke, Germany's largest social network with more than 15 million users, until its acquisition by Holtzbrinck in 2007 for around €85 million (USD125 million)); Rebate Networks' CFO Thomas Baum; Rebate Networks' VP Business Development Clemens Riedl (ex-CEO of VZ Netzwerke); and Markus Pichler, Founder and Managing partner of Alps Venture, and Co-Founder at DailyDeal, CEO of DailyDeal Austria and DailyDeal Switzerland.
Both a platform for patients as well as doctors to manage appointments
While "instant" and "real-time" are terms thrown around to emphasize the up-to-date nature of the schedule of doctors on DoctorPage, it doesn't always mean that only patients who need a doctor urgently that day are the target. If you want an appointment two or five days in advance, this is also for you. The site allows patients to find any medical or dental service (including private doctors, healthcare centers and clinics) in the city state.
Patients can check reviews and feedback from other patients and access a calendar with available appointment slots and select the date and time which are the best for them: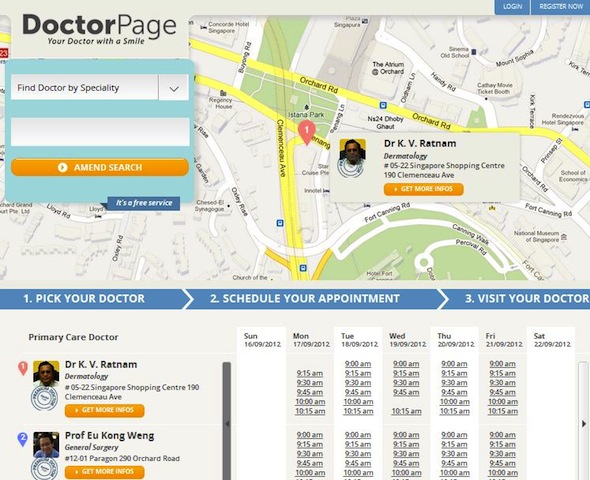 The platform also wants to make it easy for doctors to schedule their upcoming appointments, view patient feedback and number of times their profiles appeared in search results. Great for tracking the number of times one appears as an option for potential patients versus actual bookings made: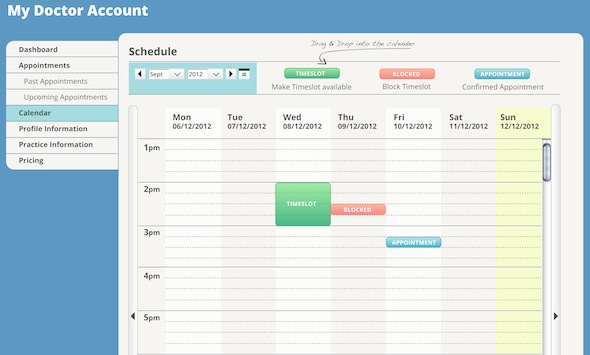 Going mobile from day one
Making it easier for patients to search for doctors and book appointments in real-time is the DoctorPage mobile app. Created by ex-BMW and ex-Head of Mobile at DailyDeal, Manuel Gruber, and DoctorPage's worldwide mobile solutions provider and consultancy Sengaro, DoctorPage's mobile app is currently available for iOS with Android version coming later.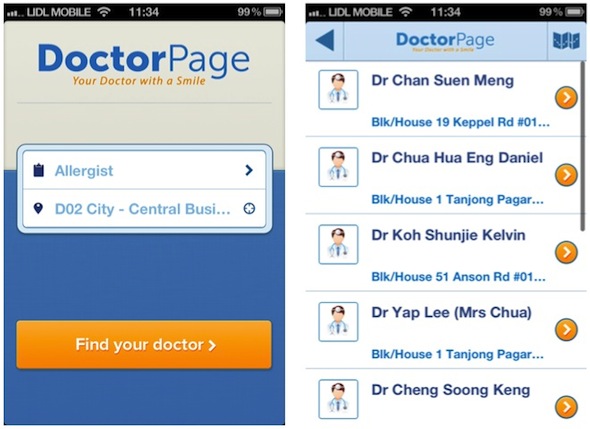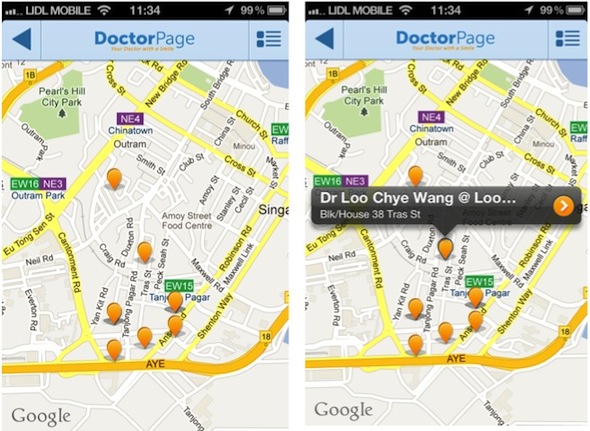 Southeast Asia to come later, new funding round to be announced soon
Currently, DoctorPage is just focused on serving the Singapore market. The team tells me that they will eventually expand to other countries in Southeast Asia and that the details of their next funding round will be announced within the next few weeks. You can also find DoctorPage on Facebook and Twitter.
Market dynamics
The idea and platform itself is nothing unique – it is similar to the well-funded and successful ZocDoc in the US. Again, we've already seen DocDoc's Singapore play – which is another real-time appointment booking platform – and others like Singapore's MediSherpa and Chicago and Taiwan-based HuliHealth that are focused more on cross-border medical service exposure.
I'm inclined to believe that it might be a winner-take-all market in such medical scheduling services, especially in such a small market like Singapore. There are two aspects to this: (1) doctors' preference for a scheduling and appointment management solution (as opposed to the analog option of pen and paper, and a little bit more advanced Excel spreadsheet) and (2) which is more successful for patients. The second will take some time for us to track. Both DocDoc and DoctorPage launched with more than 11K doctors. Something tells me there is much overlap in the supply side and only as the respective services prove useful or not useful over time, will we see both sides of the market choose and fall towards one option.
While MediSherpa already covers some Traditional Chinese Medicine (TCM) practitioners, I think it would be interesting to see a TCM-focused platform or something that brands itself as more "health and wellness" rather than sit in the problem-solution aka doctor-patient paradigm.
See: Migraine Buddy: migraine tracking app acts like a doctor, connects you to one too