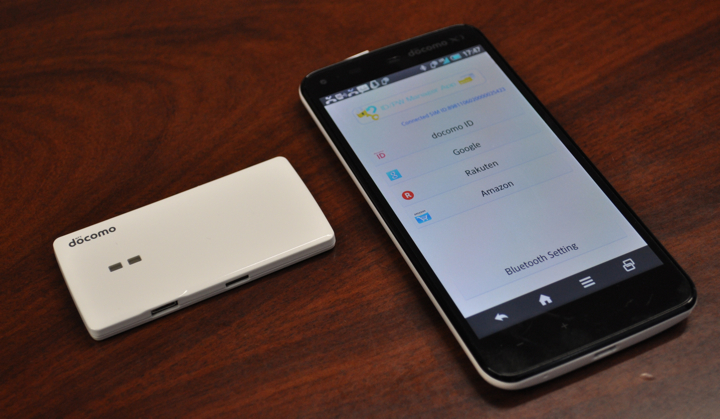 NTT Docomo, Japan's largest wireless carrier by subscriber base, will show off a prototype of what the company is calling the world's first SIM-based authentication device tomorrow at Mobile Asia Expo 2014 in Shanghai. Tech in Asia was given a preview demonstration of the new gadget, named Portable SIM, at Docomo's corporate headquarters in Tokyo. The company hopes that it will someday be downsized and incorporated into a wearable gadget with multiple functions beyond just SIM activation.
Docomo's Portable SIM prototype, roughly the size of a credit card and about half as thick as an iPhone, incorporates three major components: a SIM card, Bluetooth, and NFC. Waving the unit next to a mobile device transfers a user's subscriber identity via Bluetooth, eliminating the need to physically insert a SIM card. Portable SIM also stores multiple login credentials for a range of accounts – everything from Google to Amazon – allowing a user to skip the process of entering user IDs and passwords each time they want to use a new smartphone or tablet.
What is the advantage of separating the standard internal SIM from our mobile gadgets? Docomo says the unit will allow users to switch from personal devices to shared devices without transferring the SIM card or having to re-type login information, something the carrier believes will be especially helpful to business people and families.
A member of Docomo's research and development team demonstrated using personal and business-specific SIMs to activate one smartphone. Waving one Portable SIM over the handset turned the background pink (the default color to indicate activation for personal use) and connected it to the Docomo network. Waving a second Portable SIM over the phone turned the background blue, indicating business use. Non work-specific apps, including some camera functions, were disabled.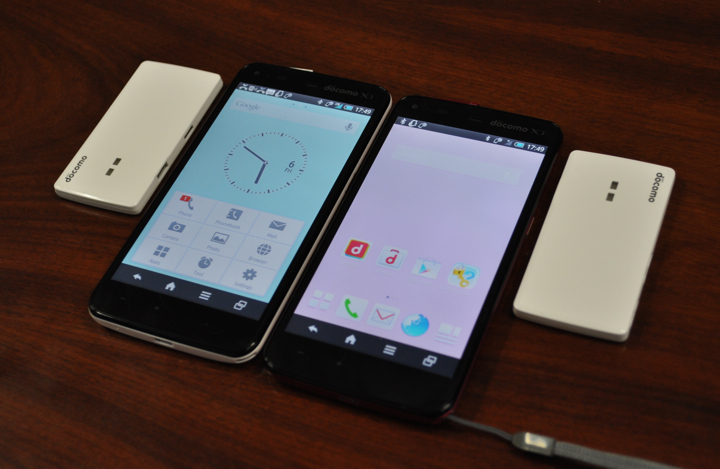 In another demonstration, the Docomo representative activated one phone with the Portable SIM, then waved the device over a second handset. The first phone was automatically deactivated when the subscriber's identity moved to the other device.
Portable SIM connects via Bluetooth 4.0 low energy and Docomo claims that the effect on a connected device's battery life will be negligible. The prototype itself can last for three and a half days on a single charge. As for security, Docomo says that SIM technology has proven to be robust against both software and hardware attacks. In the event that a Portable SIM is lost or stolen, subscribers will have access to an online kill switch that can deactivate it.
See: China's top wearable tech startup nets $10 million in funding, but looks to be falling behind the competition
Wearables get more useful
The Portable SIM prototype, manufactured by Sharp, is unlikely to be made available to consumers in its current form. Docomo envisions scaling it down into a wearable, like a bracelet, that can someday be used as a wireless authentication device and a digital wallet in one.
"The world we envision is a world whereby all you need to take with you when you go outside your home is a wristband, for example, and you don't even need to bring your smartphone," said a spokesperson from Docomo's Advanced Technology Group. "If you need to retrieve information, all you have to do is, say, stand in front of a vending machine, perhaps. You'd be able to check your email on the screen on the vending machine. An electronic money function could also be incorporated into this wristband, so if you want to buy a juice you can."
On the business side, the company hopes to increase data traffic by promoting the usage of multiple devices per subscriber.
At the very least, Docomo's new gadget will make activating a new device as easy as waving your hand, eliminating the hassle of having to re-enter all of your personal data and login credentials each time you upgrade your smartphone or buy a new tablet.