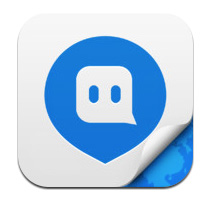 The China-made flirtatious mobile app Momo recently launched its English and global-oriented version of the app. For a Chinese startup which has reportedly raised tens of millions of dollars with international ambition, I was pretty excited to see what the Momo English app has to offer. Well, in a word, it was disappointing. The English app offers zero additional features or innovation for overseas users. It feels like a scrappy job, which really is a let down.
I downloaded both the English and Chinese app from here in Singapore – note that the global version is on iOS only for now – and I can't really tell the difference because the UI looks the same. OK, that's fine; it looks pretty nice. But annoyingly, it shows the current Chinese users on the supposedly English Momo network. Now, don't get me wrong. I'm okay with the Chinese language but not when it is on an app which supposedly caters to an overseas audience.
Think about it. For someone who doesn't understand Chinese, he/she will surely hit the exit button having seen the app. Having users who only speak Chinese within the English app is annoying. Maybe I was just expecting Momo to have a community filled with English speaking folks. But even if an English speaker were to be able to connect with a Chinese speaking user, it doesn't help, because fundamentally, there's a breakdown in communication. One speaks English while the other speaks Chinese. There's no way to flirt.
I think I see where Momo is trying to take this. While I own both the English and Chinese app, Momo only allows me to stay logged in on one of them. But as you see below, it doesn't make sense, the community is from the same user base. It just doesn't help to match English speaking user to English speaking user. It's like TechinAsia trying to force feed you with our Chinese content which most of you probably wouldn't like.
The solution to solve this is simple. Momo can simply let users pick the language(s) that they are proficient in so only users who pick the same language(s) would appear. Problem solved!