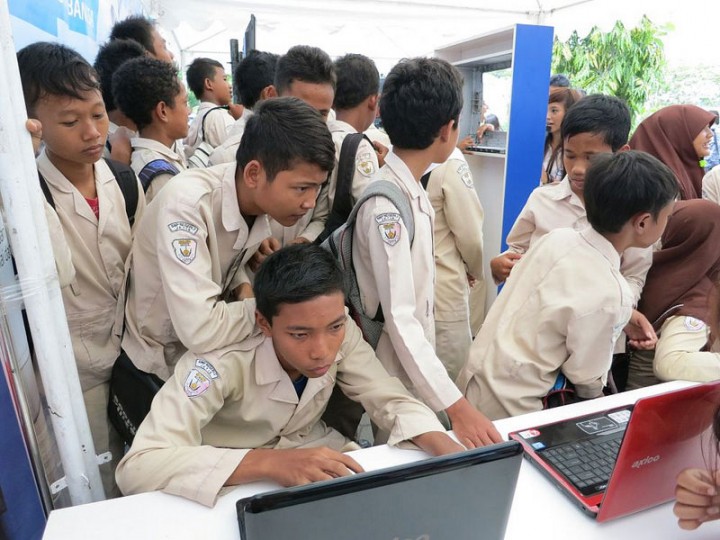 Did you know that Indonesian schools no longer offer IT (information technology and communication) curriculum since last July? The move has sparked rage among Indonesians who believe that the education and culture ministry is making a grave mistake by "removing" the subject from the new curriculum. It's almost the end of the revised curriculum's first year, and the newly-formed national association of IT teachers (Agtikknas) now wants the government to modify the new curriculum as soon as possible and revive the subject in Indonesian schools.
Firman Oktora, chairman of Indonesia's national association of IT teachers, explains that the government is somewhat on the right track. While IT is no longer an individual subject, the government encourages schools to conduct the education process inside an "IT environment", meaning that they let students use computers and conduct online research inside the classroom. But Oktora believes that the government should've revamped the subject to make it even more relevant – like what other countries are doing – rather than removing it.
IT subject wasn't relevant anyway
Oktora agrees that most of the IT curriculum lost its relevance – in 2013, the program hadn't been updated in seven years. Back in 2006 students weren't familiar with computers, and so the objective of the previous curriculum was to teach students how to turn on computers, use Microsoft Office, and understand basic graphic design tools.
Now that most students already know how to use the internet and software applications, a lot of the IT curriculum became unnecessary. The government could've fixed that by moving the irrelevant studies into other subjects, while updating the existing IT program.
(See: Indonesian school has clever way to give students hands-on Time With Hardware)
Some changes Oktora and Agtikknas want to see include a renewed focus on the ethics and dangers of using the internet. "There are a lot of fraud and scams happening online, and the students need to learn about that," says Oktora.
Or, instead of learning just to use Microsoft Powerpoint, students can learn how to create compelling presentation slides to convey their ideas. Students could also practice publishing blog posts or creating digital media. The objective would be to shape the students into producers, instead of mere consumers. This will require students to develop specific skill sets.
Bigger disparity among schools
The old IT curriculum wasn't just irrelevant and outdated. Due to the very basic nature of the subject, schools with strong IT resources could offer a better IT program than schools without strong resources. Some good schools were already teaching programming to their students, while the less prestigious schools couldn't go beyond a few classes in Microsoft Word.
Now that IT is no longer a mandatory subject, the good schools – the ones that send their students to national and international computer olympics – can continue teaching IT subjects. Meanwhile, the mediocre schools can stick with the current curriculum and and not teach students any additional computer skills.
While there is good computer infrastructure in schools in major Indonesian cities, there are still few schools in the rural areas with adequate equipment. Naturally, people from these regions require the most education when it comes to technology, as they might not even own a smartphone or laptop of their own.
There are also unqualified teachers teaching IT in certain areas. We're not only talking about former IT teachers here, but also about the teachers in other subjects like art and language. The government needs to start equipping them with the necessary skills to teach students properly. But the first and last time they did any of that, according to Oktora, was in 2011.
Moving on
Agtikknas was formed just two months ago and already has attracted about 3,000 members so far. The association has tried to invite the education and culture minister Muhammad Nuh (pictured right) to talk about the association's concerns during Agtikknas' first meetup in January. The minister was "unable to attend". The same ministry hasn't made any responses to the association's appeals.
But Agtikknas now has friends inside the house of representatives. Some members inside the education division have listened and agreed to help regarding the association's concerns. The representatives will hold a big meeting about it in May, in which Oktora hopes they can participate as well.
It's also worth noting that there are a lot of concerns regarding other changes inside the new curriculum which include the "removal" individual subjects like natural and social sciences in all level of schools. Both subjects are "integrated" inside other subjects like math and sports now. English language has no longer become a mandatory subject in elementary school; it is now an extracurricular subject.
This definitely looks like a step backwards for Indonesia's education system. While neighboring country Singapore is beginning to teach programming to elementary school students, Indonesia's schools are on the verge of a breakdown.
(Photo from Flickr user Intel Free Press)