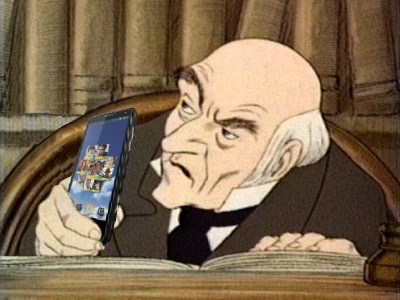 Chinese daily deals and local reviews site Dianping has compiled stats about its mobile app users for the first time, showing a lot of interesting contrasts between its iPhone and Android user-base. In summary, Dianping's iPhone users tend to spend a lot more and seek out luxury, while its Android app users are cheapskates [1]. Not the exact wording of the company, but that's what it amounts too.
Although there might be some overlap in demographics between the two platforms, the two camps of users clearly spend differently on Dianping, and tend to search for very different leisure activities too. Firstly, looking at the respective rates of expenditure on Dianping's deals, you'll see that a sizable 23 percent of iPhone users spend over 200 RMB (US$31.70) per order/deal, in contrast to just 12.55 percent via the Android app. Overall, Android users are most likely to spend just under 50 RMB ($7.93) per deal, while iPhone fans will tend to spend over 80 RMB ($12.68):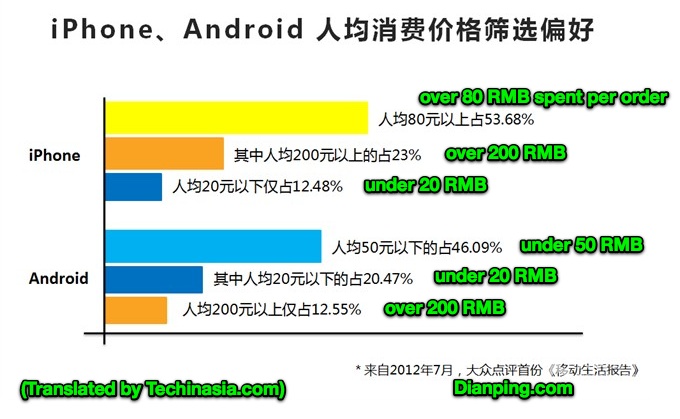 In terms of consumer preferences shown in searches made within the Dianping apps, Android users once again go budget, searching for cheap eats and entertainment like KFC, street BBQ, and internet cafes. Those on iPhones, in contrast, searched for pricier places like nail salons, petrol stations (indicating sizable car ownership), and specialist restaurant chains like Pankoo for authentic Korean cuisine. If you read Chinese, that graphic is here.
But iPhone users in China are not always so generous, especially when it comes to apps. Earlier this week we looked into a report that showed Chinese iOS app developers were earning a worldwide low of just $0.03 per download.
Despite the tendency of Android users to spend less on services, it's now a crucial mobile platform for all Chinese web businesses to support. Figures for the end of 2011 show spectacular Android growth in China so that it commands 68.4 percent of mobile OS market share – way above iOS' tiny 5.7 percent.
[Source: Dianping blog – article in Chinese]
---
I'm an Android user myself, and have used Dianping before, so my stats are in there somewhere. I wouldn't say that I'm a cheapskate, though I can be frugal, such as re-using tea-bags a few times, and making shoes last for a decade. Oh, wait… I'm a cheapskate.  ↩