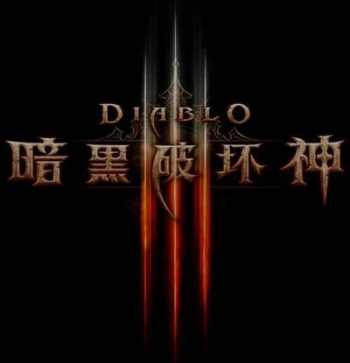 Blizzard games are big business in China. Warcraft 3 is huge, World of Warcraft is enormous. And now that it's almost here, Chinese gamers are getting hyped up for Diablo 3, too.
Most recently, eager gamers uncovered the logo above — assumed to the the official Chinese logo for Diablo 3 — in a patch update to the ongoing beta for the game. There's not much in the logo that's surprising. In point of fact it looks pretty much exactly like the official English logo. But it's evidence that Blizzard is working hard on a Chinese localized version of the game.
That said, Chinese gamers are almost certainly in for a bit of a wait. They'll almost certainly be getting the game later than their Western counterparts, and it's looking like the game may not make its planned Q1 release date in the west, anyway. All in all, there's a decent chance the game won't see release in China until 2013. That's a long wait for hyped-up Blizzard fans here, but little tidbits like this logo should help ease the pain along the way.
When Diablo 3 is finally released, expect it to make a major splash in the Chinese gaming scene. And, immediately following that splash, expect a prodigious crop of copycats to pop up too.
[via QQ Games]