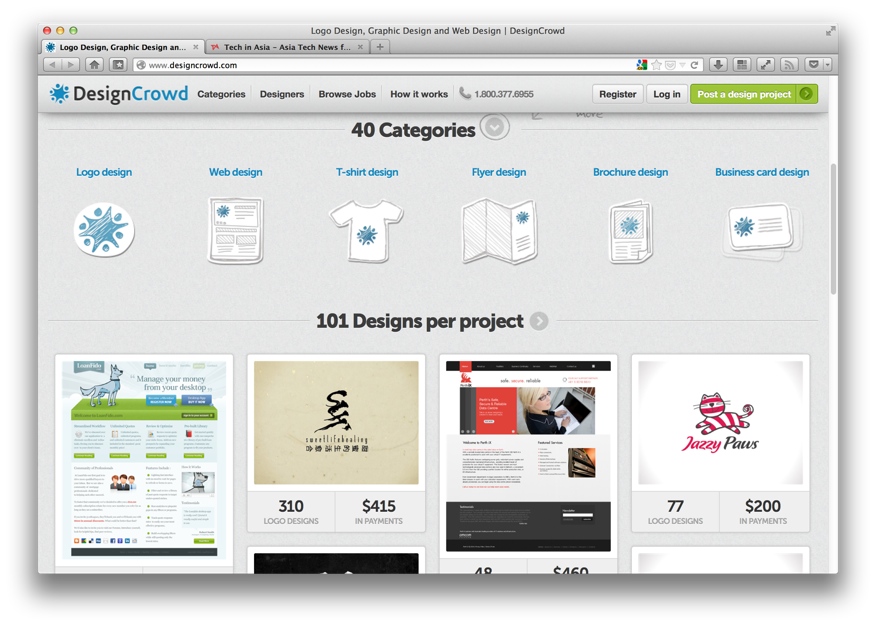 DesignCrowd is an online crowdsourcing marketplace for design. You set a reward and post a pitch for different types of design projects: a logo, website, T-shirt, or brochure. Designers respond to your pitch and compete to win the prize money you have set.
I haven't used DesignCrowd myself, but I have used 99designs for projects like logos, websites and app design, so I am familiar with the concept of crowdsourced design. I have also used Odesk, Elance, and Fiverr to source design work. Previously, I hired two designers on Fiverr to create several mobile advertising banners for $5 each. For design tweaks, I used Odesk and hired a designer in Romania.
Now, I've hired designers to work on my startup Native Tongue Apps but I still use 99designs for some of the work. I really like design crowdsourcing because I can have more designers thinking about the brief and offering different perspectives. I will end up receiving more designs than using just one designer.
From the winning submission, my designer can add tweaks, extra screens, and pages as needed. This way I have the best of both worlds.
Another benefit of DesignCrowd is that its online graphic designers can post their work anytime and from anywhere in the world. It breaks down the traditional working culture where an employee has to come in at 9 am and finish at 5 pm. Online platforms like DesignCrowd overcome the barrier of distance and time but also give designers the opportunity to work on some of the world's biggest brands.
DesignCrowd's night owls
DesignCrowd shared some statistics about its design contests. According to its Australia data, the peak time for projects submissions was in the late afternoon, with 7.7 percent of projects submitted between 3 pm and 4 pm. During this peak period, 1,474 designs were submitted. There was a brief drop in numbers after the 3pm to 4pm period, before the volumes increased again, hitting a secondary peak during the 9 pm to 10 pm period, and maintaining solid levels until just after midnight.
Remarkably, between 1 am and 2 am, there were 384 design submissions, amounting to 26 percent of the peak-time submissions. Between 4 am and 5 am, there was still 161 design submissions, amounting to 11 percent of the peak-time submissions. So, around 37 percent designers submit their work between 1 am to 5 am and I found that pretty interesting.
The data we received from DesignCrowd was based on designers in Australia. But there are also designers from Asia and Europe where they have different time zones from us here in Australia. DesignCrowd told us that 21 percent of DesignCrowd's Asia-based designers submit artwork between 10 pm to 7 am. This reinforces the fact that many freelancers are working as night owls on crowdsourcing platforms.
Making full use of round-the-clock designers
I found when I ran a design contest on 99designs, the submissions would come in overnight and in the late afternoon or evenings. So I made sure that I left design feedback twice a day — once in the morning when I woke up, and another in the late afternoon. This ensured that the designers had the latest feedback to match their working schedules and their timezones.
In my experience, not all freelancers on crowdsourcing platforms are full-time. There is a large segment of them that are part-time night owls freelancing to get some extra cash. I believe that crowdsourcing platforms are creating a new category of remote workers. Workers can log in online, accept a freelance project from a remote buyer, submit their tasks, and collect payment.
Hopefully these night owls will get some sleep in between as well.
(Editing by Vanessa Tan, Terence Lee, Steven Millward)