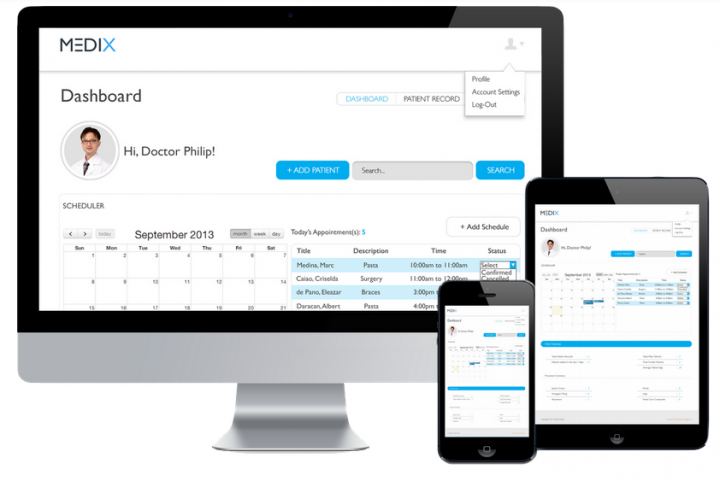 Keeping tons of records on paper is almost a thing of the past for most businesses. Record-keeping software – or simple web tools like Google Docs or Evernote – has largely taken over. However, many dentists are still far from the computer age. That's why Philippine startup Medix wants dentists to put its patients' records on its web platform.
Dentists have a responsibility to keep their patients' information, together with their dental history. Every dentist does this. However, many still rely on paper-filing methods.
Medix, a cloud-based clinic management service, could possibly make record-keeping more seamless. It allows dentists to keep their patients' details and dental history online. It also gives dentists the capability to upload digital before-and-after images of their patients for future reference. The web dashboard also shows a dentist's upcoming appointments.
Medix founder Marc Medina says that Medix cuts out time wasted in maintaining records and allows dentists to focus more on attending to their patients.
(See: A web service you never knew you needed: online dentist appointment bookings)
The startup offers a freemium option that lets users store up to 15 patient records. But for those who want more features, there's a paid service at Php 1,199 (US$27) a month that allows dentists to store up to 5,000 patient records in one account. For larger clinics, there's another tier for Php 1,999 (US$45) a month that supports a maximum of 10,000 patient records covering five dentists in one practice. Both paid services offer phone and email technical support and on-site training.
Since it launched last November, Medix has already gained 600 users, of whom fewer than 100 are paying customers.
To grow its user-base, the startup has inked a partnership with the business segment of Philippine telco Globe to allow dentists to subscribe to Medix through the telco. It will bundle the service with internet subscriptions and mobile devices.
A mobile app for clinics is in development for this year. Medix plans to expand into other Asian countries.