Web journalist/activist Deng Fei is already a pretty famous guy in China's cyberspace. In part through social media, he's orchestrated a number of online campaigns, most of them targeted at helping children (like his famous "Free Lunch" program). But while everyone is home for the holidays, Deng has sparked another social media movement by asking a very simple question:
How is the river in your hometown? While you're home for the holidays, take a photo of the river or stream in your hometown and upload it to weibo for us to see.
It took off thanks in part to retweets from other influential weibo users like tech angel investor Xue Manzi (you may remember him and Deng Fei from their panel at GMIC 2012), and on Friday became one of Sina's trending topics, with thousands of net users responding to the call.
As you might have guessed, results vary but many of the rivers look kind of disgusting. Here's a collection of photos of some bad ones I came across while browsing: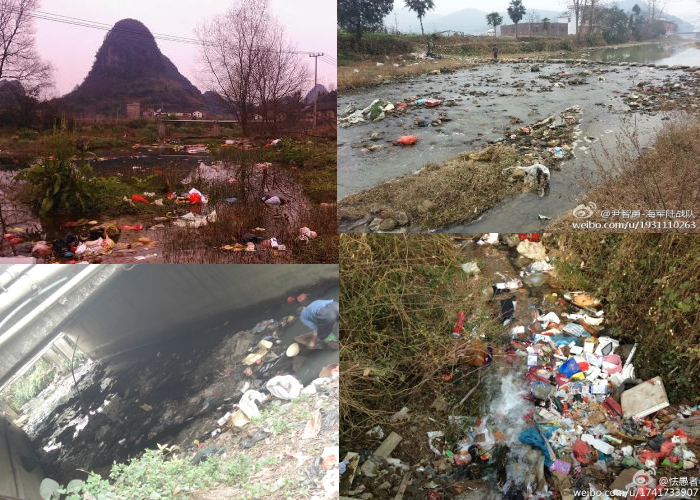 What's interesting about this is not so much that some Chinese rivers are full of trash — this should not come as a great shock to anyone — but that it is a clever way of making a local issue into a national one. Sina Weibo has proved to be fertile ground for this, and we have seen the same story play out with corruption over the past few years and more and more weibo users realize that corruption isn't just a local issue after reading weibo accounts of "local" corruption all over the country. Deng Fei appears to be trying something similar here, as while one river being full of trash is a local problem, everyone's rivers being full of trash might point to a larger problem.
(Of course, not everyone's rivers are full of trash, and Deng's campaign has taken off in part because some people just want to show off the nice rivers in their hometowns.)
Whether or not anything comes of Deng's river campaign, this kind of movement will be quite a bit more difficult to engineer if Chinese users continue to move to WeChat, making that their primary social network of choice. WeChat, of course, is all about local, which is great for a chat app, but I wonder if some of the social issues weibo has helped to publicize will disappear from the public consciousness again if everyone moves to WeChat to get their social fix.