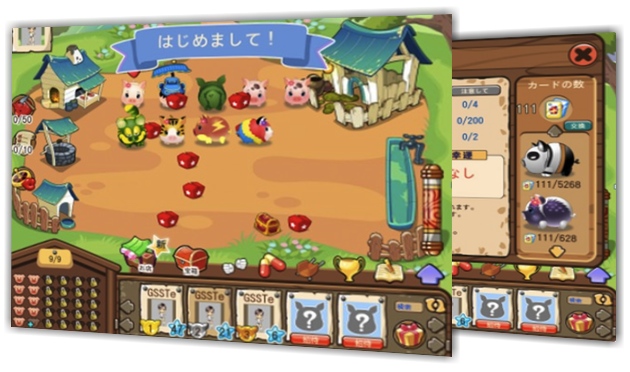 The Japanese company DeNA (TYO:2432) has announced this afternoon that it is tapping a Vietnamese games studio called VNG to bring new social games onto Mobage, DeNA's global social gaming platform. VNG is one of Vietnam's largest web companies, with 1,500 employees at present.
With this tie-up, DeNA will provide support for VNG in its production of new games that will be distributed on the Mobage platform. The aim is to create at least three new social games for smartphones on Mobage in 2012. It has not been revealed how much an investment and/or renumeration this entails.
VNG already has form in Japan, having very recently released its Flash-based Pig Farm (pictured above) social game on Yahoo's (NASQAQ:YHOO) Mobage portal for PC browser-based games, which was produced with back-up from DeNA. That was the first Vietnamese social game to have launched in Japan. According to today's press release, the first fruits of this formal tie-up will be the Japanese version of Sky Garden, another VNG social game, on Yahoo Mobage. The rest, it appears, will be mobile titles.
Also, this is not DeNA's first foray into Vietnam. The Japanese web giant acquired the Punch Entertainment Vietnam studio back in September of this year. Today's move is another vote of confidence in Vietnam. On that subject, Tetsuya Mori, MD of DeNA Asia, said:
Vietnam has a surprisingly strong Internet startup and game developer community. DeNA believes Vietnam will produce world-class developers and VNG is undoubtedly the strongest candidate. We are excited to develop a mutually beneficial, long-term relationship with VNG. DeNA is committed to supporting developers in Vietnam with and beyond Punch Entertainment and VNG.
Le Hong Minh, founder and CEO of VNG, added:
Our partnership with DeNA marks an important milestone for VNG as well as the whole developer community in Vietnam. Achieving success in the Japanese market is a dream for every game developer in Vietnam.
DeNA is pretty busy this week, as yesterday two major rivals, GREE (TYO:3632) and KDDI, said they were joining forces to sue DeNA over alleged anti-competitive practices. They're suing for 1 billion yen (US$13 million). It relates to apparently pressuring game developers to keep them from building games on GREE's platform.