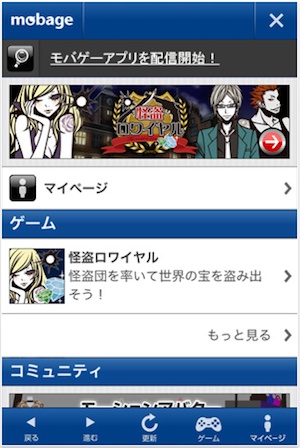 Japanese online social games company DeNA continued its very busy summer yesterday, finally rolling out its iOS application on Apple's Japan App Store. We just got word via the company's official announcement just now.
Mobage had been previously available via mobile browsers, but this new dedicated app (pictured right) should be a welcome addition for fans of the gaming platform.
In addition to the Mobage app, the company also rolled out Solitaire, Reversi, and Ninja Royale as well. The announcement pointed to more third-party games coming in the future.
For now, you can download the new apps via iTunes (Japan):
All this comes on the heels of DeNA's recent move to launch Mobage abroad (both in China and in English-speaking countries) via the Android market. You can read all the details about this latest announcement in DeNA's release below.