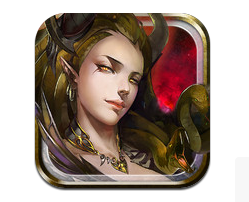 Japan's DeNA (TYO:2432) is announcing today that it has released a new fantasy title, Hellfire, on its Mobage platform. The game was developed by the ngmoco studio, under the oversight of Takeshi Otsuka, the creator of Kaito Royale, one of the biggest Mobage hits thus far. Hellfire will be his first international title.
Players collect and evolve creatures in keeping with the card battle model, with the kind of artwork that we have come to expect from the genre. But there are interesting 3D battle scenes as well that implement unique touch controls. Clive Downie of ngmoco explains that in this way the game "innovates on the traditional card-battle game by adding an entirely new layer of gameplay strategy with the flick mechanism."
The flick motion on a touch screen is almost the sort of gesture you'd expect to see in an air hockey game. But instead you can use it to launch attacks upon your enemy, and admittedly, it makes things a lot more fun.
The game is available worldwide for both Android and iOS. Give it a try and let us know what you think.