Japanese web and social gaming company DeNA (TYO:2432) has created its first advisory board to seek expert advice from industry luminaries on "the company's mid- to long-term growth." The entrepreneur and venture capitalist Joi Ito – also director of the MIT Media Lab – is perhaps the best known of the four members of this new board.
The crack quadrumvirate – three Japanese and one American – will meet twice a year. The full line-up is: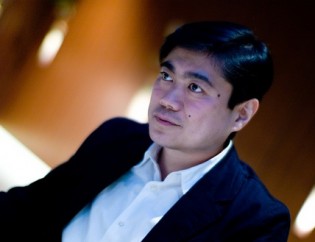 Rehito Hatoyama, director, Sanrio Company, Ltd.
Nobuyuki Idei, founder and CEO, Quantum Leaps Corporation
Joichi Ito (pictured), director, MIT Media Lab
Craig Sherman, managing director, Meritech Capital Partners
(See also – Understanding DeNA and Mobage: A Graphical Overview)
DeNA's stock had a rollercoatser ride in the past year, but now its share price is back where it was last June. The company's Q4 and full-year 2012 financials saw a record $2.04 billion in revenues and $775 million in profit for the whole year, but quarterly profits and income are slipping. In a highly competitive social gaming market in Japan, DeNA lost momentum to
popular apps like Line
(which also has social gaming features), and its
Rage of Bahamut game
gradually lost ground to Gungho's
Puzzle and Dragons, which is a runaway success
.
And so DeNA has been diversifying somewhat, launching a social music service in Japan a few months ago. Plus it has the messaging app Comm, which is a relatively late arrival to the battle against Line and Whatsapp.
DeNA is also very active in the US, China, and South Korea.
(Photo: CC/Roger Barnett)