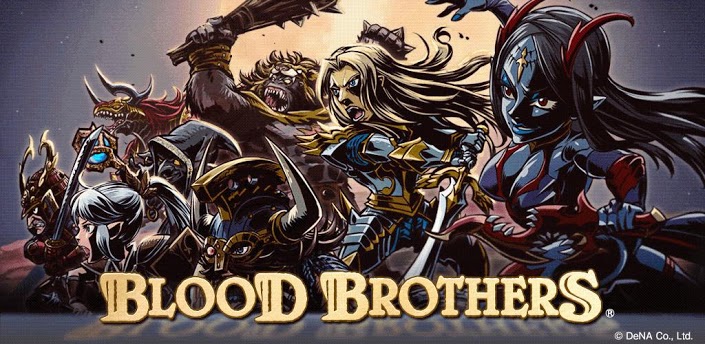 Developed by Japanese gaming company DeNA, Blood Brothers is a popular mobile game that has hit number one place in 33 countries. It is also a mobile game played across most parts of the world except for China, Africa, and Japan.
Tetsuya Mori, managing director of DeNA's Singapore office, said at today's Casual Connect conference in Singapore that Blood Brothers is an important case study for developers because it is one of the few games that has won without special device leverage (like Nintendo had in the past) or a Japan-first success (like Rage of Bahamut). Mr. Mori added:
Blood Brothers is interesting because we didn't even release the game in Japan. We just released the game in the global market and won the world. For that reason, it matters to us [game developers].
While most Japanese game publishers know how to make money in their local market, Mori says that not many know how to repeat the success in the global market. So what is the reason for Blood Brothers' success? Mori explains that in-game events have made the major difference.
The secret sauce: Games inside a game
As explained by Mori, events are "games inside a game." They are usually set within a limited time and gives players rare items. Such in-game events usually double the average revenue per user (ARPU). Examples of an event could be a player versus player (PvP) event, boss raid, or special dungeon mission. Understanding that events are important, Mori shared five key design points on planning an event:
Leader-board: A way to spur gamers to climb the ranking ladder.
Separation into groups: To create a sense of belonging among gamers. But sometimes a group too big doesn't provide that sense of belonging. "Divide the pyramid small enough so that players feel they have control," says Mori. He also shared that a 10-person pyramids are what DeNA finds most effective for Blood Brothers but the team keeps evaluating and optimizing the group based on data they find.
Incentivizing effort: Blood Brothers gives one point for the first reward and provides increasing returns of points as users get higher.
One day, one match: Developers shouldn't do events too frequently to ensure that events stay fresh and exclusive. Don't make gamers exhausted.
Rewarding effort: Top players usually feel comfortable being at the top of the pyramid. To keep them working, Blood Brothers provides negative incentive from time to time to keep them on their toes.
Mori also shares the "five don'ts" when designing Blood Brothers:
Don't play, get lost.
Don't get players overwhelmed.
Don't get them bored.
Don't get them exhausted.
Don't let top players feel too secure and comfortable.
Actively managing games as a service
Mori says that a lot of game developers see a game as a product and leave it there once it is developed. But for DeNA, it is all about actively managing games as a service. "[A game] is art, yes, but it is more science than art," said Mori (see slide 13).
Part of the work for Blood Brothers is done at DeNA Hanoi, the Vietnamese branch formed through the Punch Entertainment team it acquired 18 months ago. He ended his keynote saying:
Tokyo HQ studios rely more and more on the Hanoi studio. We have another
game called History Attacks. Just through this experience, we are making active transfer of our core competency to Southeast Asia. Not only in Hanoi, but we also set up a studio in Singapore.
UPDATE: To make it clear, Blood Brothers is available in China (on mobage.cn and mobage.tw) and Africa (on Mobage West Network)