Online education is currently one of the hotter trends in Asia (and possibly the world). It's something that Bill Gates and Steve Jobs both ruminated on. They were surprised that it hadn't been revolutionized. But others have carried on with the concept, and there's been huge strides in the field – from Salman Khan and his Khan Academy, to Coursera and its close ties to the world's universities, to Udemy and its practical courses. Well, the concept that Udemy started is already in Vietnam, and growing.
DeltaViet is one of the first movers in the new field of online education in Vietnam. With 500 students and 13 courses already on just for May this year, it's off to a healthy start. Most of the courses currently are focused on practical life skills like "how to get your children to take care of themselves" and "skills for being creative." Minh Nguyen, co-founder and CEO, says the site is hoping to get more, namely in practical IT skills and other areas that enhance people's daily or career lives.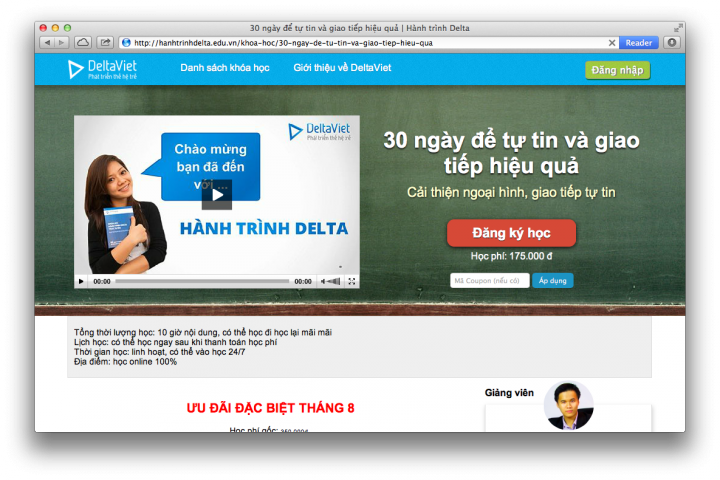 A quick look at DeltaViet's numbers
Currently, DeltaViet's mainly collecting money via SMS banking, wherein a potential student would use the same scratchcard that they use to top up their SIM to pay for their online course. This makes up to 90 to 92 percent of DeltaViet's revenues. Five percent comes from internet banking like NganLuong and three percent is from students coming into the office to pay by cash. But the really interesting thing is 50 percent of DeltaViet's 500 students are in the countryside, outside of Vietnam's top cities; Ho Chi Minh city itself accounts for 30 percent of students, and Hanoi for 20 percent. In other words, DeltaViet's got legs outside of the city.
Just like Udemy, DeltaViet collects between 30 to 50 percent of the revenue and 50 to 70 percent goes to the teachers. That's after the telcos skim off the top with their 15 to 20 percent transaction fees.
Every course on DeltaViet, unlike Udemy, also has quizzes. Since, according to Minh, Vietnamese students may not actually watch and apply the things they learn via video. Thus, if students do not complete assignments in the courses they sign up for, they get demerits on their account. If a student has too many demerits, they may fail to get the certificate that DeltaViet awards after completion. Note: currently, DeltaViet's certificates are only recognized by certain partners and have no academic standing.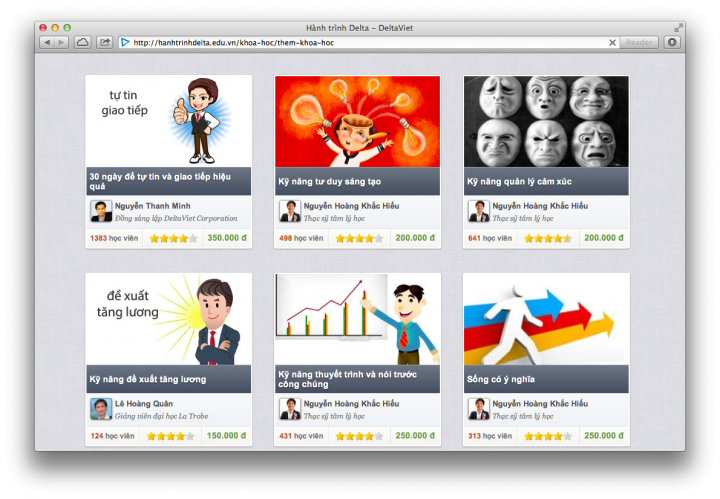 A quick history of DeltaViet
Minh says that the quest for DeltaViet actually started back in 2009. He had started a small social network that was dedicated to people supporting each other's personal development goals. It was basically a social diary for folks to share their progress. The network grew to 100,000 users, until one day, under extenuating circumstances, they had to shut it down.
In 2011, still focused on personal development and education, Minh launched yet another project that he says is an e-learning content provider plus software-as-a-service (SaaS) package. It was basically a course where people were taught how to set their personal KPIs. On top of this, they sold a six-month software package that bundled as a tool to help people monitor these KPIs.
But finally, in 2012, Minh met Hieu Nguyen, DeltaViet's current head of business development, under the Founder's Institute program.
Under the guidance of Mr. Pham Minh Tuan, who already has a lot of experience in online education via his own platform, Topica, we both looked more closely at the model from Udemy. At first we were skeptical, but after traveling abroad and doing more research, we realized this model had a lot of practical value in the Vietnamese market.
From late 2012 until May 2013, the team worked on building the platform as well as sourcing for new teachers and trainers to be hosted on the service. Minh, an aficionado of training courses, says that he's attended a lot of training and personal development courses in Ho Chi Minh city, so he already knew exactly where to ask. In the beginning, the team was asking trainers to try it out, but now teachers are already contacting them to be hosted online.
A quick look at DeltaViet's future
Hieu and Minh say the future for DeltaViet is pretty straightforward. They're going to work on getting more courses, more students, releasing a mobile web version in one to two months, and getting native apps out in six months. The team is also working on bundling solutions for organizations and private companies where they can use the platform to host their own privately targeted courses or even bundle already-made courses into something for their organization. The team is also looking to scale significantly in the next few months and is already looking for more seed funding.
So far, there aren't any competitors in this space, although folks like VNG are doing things like Zuni, which is still a beta-stage project, and Topica has its certification program, which isn't exactly in the practical skills category. With DeltaViet's steady success, it's possible we'll see competitors coming in, but it just might be too late.
For interested investors, DeltaViet has provided us with their executive summary here.
(Editing by Steven Millward and Paul Bischoff)