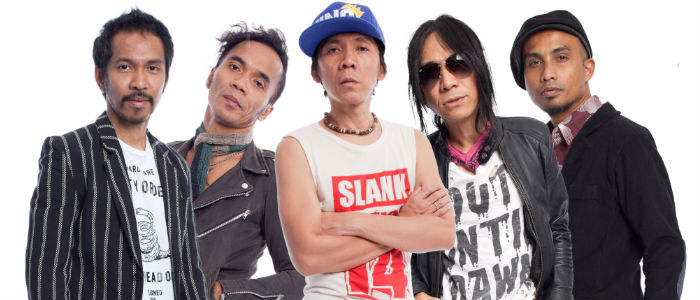 (Update: We corrected details about Slank's plan to give out merchandises on Deezer.)
France-based music streaming service Deezer is looking for a boost in Indonesia by collaborating with local rock group Slank (pictured above).
Slank held a live chat session on Deezer earlier today and will be holding a contest from February 6 to March 6 where the top winner will get to dine with the rock stars while a few others will win band merchandises.
Slank has been around since the 80's, and the group's members were Indonesia's highest paid musicians in 2008 and 2009. The rock band strengthened its popularity in the country by releasing its second movie titled Slank Nggak Ada Matinya in December.
Right now there are only three Slank albums on Deezer, but the group announced today that their full album will be available on the streaming service on February 6. There are other Indonesian artists on Deezer such as Raisa and Agnes Monica. Unfortunately, Agnes Monica fans can only find two songs of hers on Deezer at the moment.
Like Spotify, Deezer makes money by a mix of ads and premium subscriptions. Only credit card owners in Indonesia can subscribe to the full service currently.
Battle for Asia's music lovers
Deezer has a presence in over 180 countries and a catalogue of over 30 million songs. In Asia, it's available in Singapore, Malaysia, Indonesia, Thailand, Laos, Vietnam, Cambodia, the Philippines, and South Korea. The company has tied up with three telcos in this region to boost user-numbers: M1 in Singapore, Digi in Malaysia, and DTAC in Thailand. There's a possibility that Deezer will do the same in Indonesia.
But Deezer might find difficulty in signing a deal with the country's biggest telco, Telkomsel. The operator has its own music streaming services called LangitMusik, while its parent company Telkom Indonesia has Melon Indonesia. Deezer's other potential rivals in Indonesia include Australia's Guvera and local player Ohdio 1. Spotify is expanding aggressively in Asia, but it hasn't yet launched in Indonesia.
There are rumors circling around that Samsung is in talks with Deezer about making an investment.
---
Disclosure: East Ventures invests in Ohdio as well as in Tech in Asia. Read our ethics page for more information.↩
(Editing by Steven Millward)