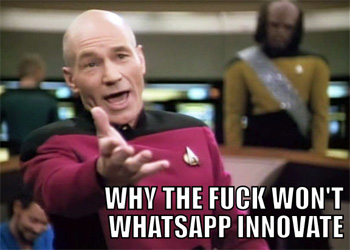 Whatsapp no doubt was the app that started the wave of mobile messaging, timed pefectly to coincide with the rise of smartphones. It was clearly the leader. But as the race goes on, I'm starting to doubt if Whatsapp can continue to stay at the top.
Whatsapp has failed to innovate. The app is still pretty much the same as it was a couple of years ago. It kept it basic. That was good for starters, but as time goes by, other messaging apps started to innovate. Apps like Tencent's WeChat (or Weixin in Chinese), Line, and Kakaotalk have evolved beyond just being messaging apps.
I will just talk about WeChat since I'm spending quite a fair amount of time on it each day. WeChat has some interesting functions that allow you, for example, to make video calls, read news, backup your contacts on the cloud, search for people nearby to chat to, and more. All those features come as a "plug-in" on WeChat and users have a choice to install more, or remove them.
Grow with your users
Not to forget WeChat has emoticons, which I think is important for any messaging service in Asia. And WeChat has a much better user experience for its voice messages. Whatsapp's voice messaging seriously sucks. Recording a voice message requires users to take multiple steps. WeChat needs just one step to send a voice message; plus, the recipient can listen to it almost instantaneously. Whatsapp's just can't compete on this front, period.
I know voice messaging, though huge in China, might not be an important function in the western part of the world. So not improving on that may be understandable. But WeChat beats Whatsapp on almost every front. Even its design feels much better than Whatsapp. Plus, WeChat has opened room for imagination by allowing developers to build applications – those plug-ins – on top of its platform. But Whatsapp has remained basic, apparently not wanting to improve and innovate.
I fear that Whatsapp may lose it mojo if it continues to rest on its laurels. I know Whatsapp has been doing work in Asia, Indonesia especially. But I don't think that's enough. Because if you want to talk distribution, Tencent (owner of WeChat) surely has more bargaining power. If you wanna talk about resources, Tencent also surely has more. Most importantly, WeChat has innovated with the times and let its 200 million users re-imagine what a simple messaging app could do, while Whatsapp stayed put with only tiny improvements in each update.