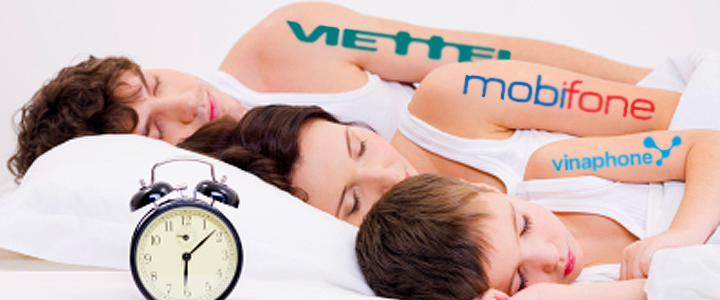 Vietnam's 3G and mobile coverage has slowly gained a quiet reputation in the Southeast Asian region for being broad and reliable. It's also known for being the cheapest and most convenient. Walk down any street in Vietnam and you can buy a brand new SIM card for less than $10, with enough credit for unlimited data for a month. If you want to top up your card, it's just as easy. Scratchcard sellers are everywhere.
Vietnam's telcos probably don't like this so much [1]. After all, in a country where you can get a new SIM or scratchcard on any street corner, the telco offerings must be highly decentralized. Anybody can be a vendor for SIMs and scratchcards. And decentralization means less regulation and control over the product. But it's also been a key reason why it's grown so fast.
Unfortunately, that growth is one-dimensional. The government-owned telcos of Vietnam compete on price. They don't compete on services. This is in stark contrast to Thailand's telcos, who are on a quest to fund the next generation of mobile startups in their country. Some in the industry seem to think that this reflects Vietnamese consumers. As one of my undisclosed sources in a foreign telco mentioned to me:
Vietnamese customers are mostly interested in the price, it does not seem that innovation is a key factor for entering the market.
In other words, Vietnamese consumers just want to be able to text and call.
Here come the smartphones
At last count, Vietnam has over 140 million mobile subscribers, and only 20 to 30 percent of that number is on smartphones. And those are only numbers within the last few years. The smartphone revolution has come to Vietnam and the telcos need to wake up. By the end of next year, Vietnam will have near 40 percent smartphone penetration and by 2015 nearly 50 percent.
What Vietnamese telcos need to do is look at what the Thai and Sing telcos are doing. In Thailand, Dtac just released its Watchever app, which allows users to stream movies more efficiently over their telco services. Singtel is partnering with companies like Shopify to offer its customers more access to e-commerce products. There's also huge possibilities in supporting more VOIP communication as well as online storage. I mean, I know the folks at Kleii, Vietnam's Dropbox, have been working hard on getting cloud storage offerings for telco customers. There's a lot of possibilities.
Rumors said Vietnam might ban chat apps. Whether or not this is true, it's a clear indication that Vietnamese telcos are out of touch with services they could serve on top of their 3G lines. I'd say they've got within one year to rethink and start investing seriously the same way Thai telcos are. Otherwise, they risk holding back one of the most promising mobile markets in the region.
Recent reports might indicate that some telcos are waking up to this. But it's too soon to say. We'll be watching closely for any services they may roll out.
---
[1] Vietnam has three major mobile telcos, including Mobifone, Viettel, and Vinaphone.