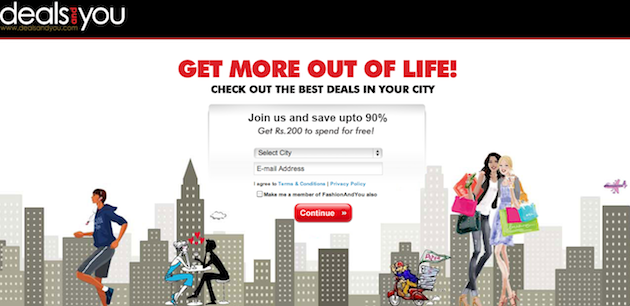 Group buying website Deals and You has raised $17 million from a group of investors, led by Mayfield Fund and Norwest Venture Partners – with participation from Nokia Growth Partners and Intel Capital – according to report from the Business Standard.
The report further states that the 14-month old company has apparently divested around 18 percent to 20 percent to investors and is currently being valued at US$85 million.
Deals And You will be using this latest infusion of capital to invest in technology, infrastructure, hiring talent, and branding. The company is also apparently revamping its website, aiming to deliver an improved user interface to its customers.
Elaborating on the new funding round, Gaurav Kachru, CEO, Deals And You, said:
We are very happy and encouraged by the faith our investors have shown in us. The raised capital will help us continue to build a strong customer focused business with greater investments in technology and infrastructure, which will help better serve our customers.
Known as Wanamo.com in its previous incarnation, this daily deals website was acquired in June 2010 by Group Buying Global A.G. and Harish Behl of Smile Interactive Technologies Group. Two months down the lane, the website was rebranded and launched as Deals And You, raising $1.5 million in funding from Group Buying Global A.G.
The company currently serves daily local deals in 20 cities and national deals ranging across product, travel, and retail in 250 cities in India.