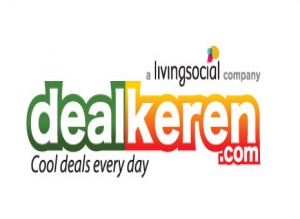 Within less than a year of its establishment, DealKeren has become the market leader among group buying websites in Indonesia. But the competition will be tougher this year as many players emerge and international companies jump in the game as well.
As explained by DealKeren's Managing Director, Adrian Suhermanat, at the IDBYTE workshop yesterday, the company's market size reached 65 percent in May 2011 (see chart below, DealKeren internal data).
Considering the current growth in the social media space, the market potential for group buying websites is still huge. The market size is roughly only around USD 400,000 per month, so there's still much room to grow. It's no wonder that so many new players from home and abroad are looking to compete in the area.
Over the last three months, three international buying group players have entered the market: Groupon (which acquired Disdus in April), Maiplay (the Indonesian version of PlayHawaii), and LivingSocial (acquired DealKeren in June). Local players are also growing rapidly from less than ten players in 2010 to more than 30 players as of June 2011. This will make the competition tougher for DealKeren and for other players too.