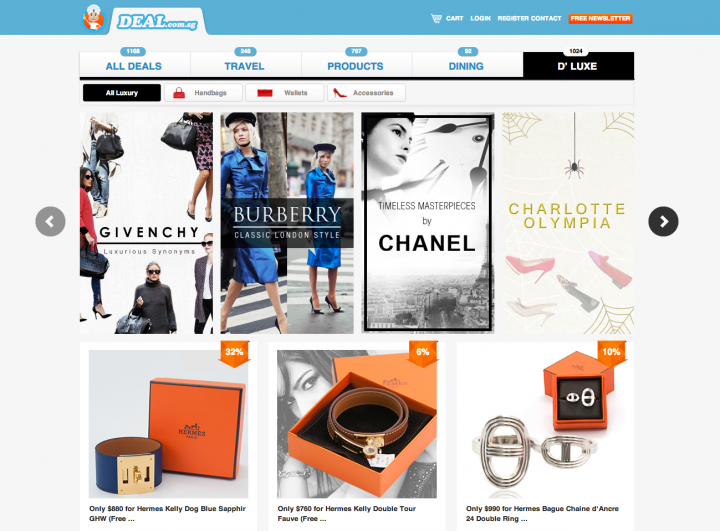 Not long after its acquisition by iBuy Group, the flash sales-oriented ecommerce group, DEAL.com.sg is making a move into the online luxury space with the launch of a new category called D'Luxe.

D'Luxe will be showcasing premium luxury brands such as Longchamp, Coach, Prada, Chanel, and Hermes, all at the best prices in the market – or so they claim. The ecommerce site currently carries about 900 different models of brand-name goods, and they aim to have over 1500 different models by the end of 2014, which would make D'Luxe one of the largest luxury shopping platforms in Singapore.
Their goal, according to CEO and co-founder Patrick Linden, is to make the luxury lifestyle available to customers who shop at a wide range of price points. "DEAL.com.sg recognises the large swath of space in the luxury ecommerce market that is currently not being served by any other players locally; most shoppers are forced to choose between hunting down the best price or opting for shipping from overseas with no guarantee or clear return procedure," explained Linden in a statement. "By utilizing its local presence and international sourcing, DEAL.com.sg is able to fill this void."
(See: Singapore Startup Deal.com.sg Records $50 million Yearly Revenue; Founder Shares His Starting Up Story)
A VIP Room offering white-glove services will also be opened within DEAL.com.sg's new Redemption Centre, which will be located at the CT Hub in Kallang.
Four years in the making, and DEAL.com.sg is still one of the largest surviving deal sites in Singapore. Many have fallen from grace due to questionable practices, and even DEAL.com.sg has gotten an arrow or two shot at them. Most recently, a blogger from the Vulcan Post published an article which addressed the price points stated on the website, calling into question the honesty displayed in their marketing. Whether D'Luxe will succeed or not will largely hinge on whether the team can stay clear from morally dubious practices.
There are several other big players in Southeast Asia's luxury ecommerce space that are doing quite well for themselves, most notably Reebonz. D'Luxe will likely compete with these players to achieve the lowest price point for their products, in an attempt to open the market up to customers with less disposable income.