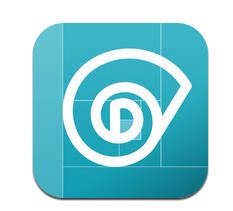 Writing on an iPad can be very tricky, given the smaller screen size. If I must write on an iPad, I usually resort to the wonderful Writing Kit app along with some Text Expander Touch / Markdown-fu as a way to take care of text formatting. But for some people, a simpler solution might be the answer. And the new Davinci note app is indeed very simple, and also very beautiful.
A product of Nota Inc., the app contains 16 slick design templates which you can choose from. All you have to do is write in your title and body text. From there you can add one or multiple photos, and you can also select different layouts to make sure they look nice.
I gave the application a spin and I confess I'm pretty impressed with the results. Once you have created your pages, you have the ability to share to Facebook or Twitter, or you can share to the web. Your page will then be hosted on davin.ci, and you can share your link or flick through all your journal entries. Here are a couple of pages I whipped up quickly as a preview.
From what I can see, in its current form it doesn't really resemble a blog — but then again, it doesn't really have to. For anyone who wants to publish and share beautiful pages, the Davinci Note app works well. Currently the app is free, and so is the page hosting. Although I'm told that there are plans to introduce advanced paid features later on. I'd personally like to see some sort of timeline capability, and perhaps a data export function so you can get your info out if you ever opt for another platform.
Nota Inc was founded in 2007, and is based in Kyoto but also has an office in the US.