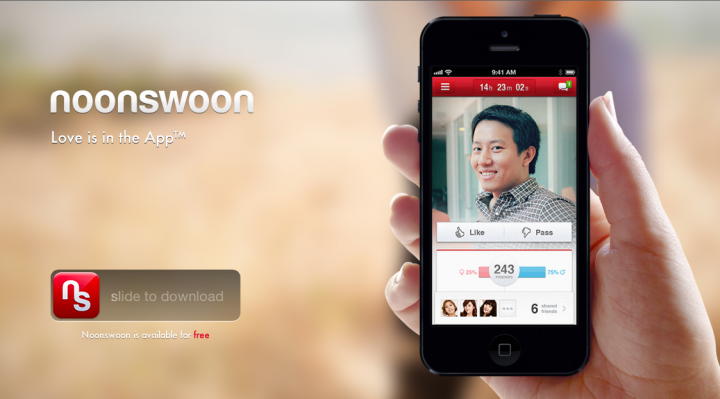 There must be a lot of singles in Thailand with all the dating apps popping up these days. Yesterday, one of them, Noonswoon, wrapped up its seed round of investment.
Noonswoon, the winner of a recent AIS startup contest, raised $400,000 from various investors, chief among them Golden Gate Ventures. This marks the Singapore-based VC's first investment in a Thai company.
Noonswoon also got backing from 500 Startups' new 500 Durians fund. According to Mickey Asavanant, Noonswoon's co-founder, his is the first company in Southeast Asia to get cash from the 500 Durians fund, which launched in May this year. In addition, a couple of reputable angel investors also pitched in, including Moo Natavudh, CEO of Ookbee and our guest speaker at the Tech in Asia Thailand meetup.
Of course, Noonswoon is not the only dating app available in Southeast Asia. There's Paktor in Thailand, Avalable in Thailand, and SingleAroundMe in Singapore, to name just a few.
Charming the VCs
According to Vinnie Lauria, managing partner at Golden Gate Ventures, it's the uniqueness of the app that interests the VC firm.
Not only does the app focuses on subscription and monetization, the app model is very unique. Aware there are many dating apps out there, instead of just matching someone using GPS, the app allows users to create a profile, and it only matches one person to one user a day. Moreover, using Facebook's network is also a smart way to match someone.
Mickey also added:
Noonswoon's uniqueness is that we value users' privacy very highly. We also focus on building a great Noonswoon community. People in our community have to be real and sincere to our people. It's kind of mandatory as you actually share a mutual friend with that person.
Swooning over Southeast Asia
Golden Gate Ventures likes the idea that Noonswoon is geographically focused and wants to expand throughout Southeast Asia. That's a great idea for the company as there are not that many strong players that mainly focus specifically on this region only.
According to Noonswoon, all the investors that participated in this round are highly strategic for the startup's regional expansions. They have a stronghold in Malaysia, Singapore, Hong Kong, and the Philippines. That should make Noonswoon's expansion a bit easier.
Vinnie mentioned that the Philippines is the first on the list for the dating app.
Mickey aims to expand the app within the next two months. The company will spend its money on building a better team in Bangkok. Nate Janewit, who has been helping the team for quite a while, will be joining Noonswoon officially as VP of product management. He's now in the US, dropping out of Harvard Business School to return to Thailand and be part of the Noonswoon team.
(Editing by Steven Millward, Josh Horwitz, and Paul Bischoff)