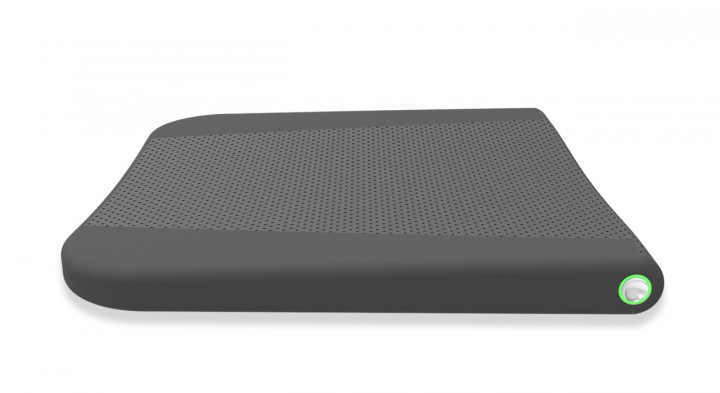 Sitting, especially for long periods of time, is the new public enemy. Office workers who sit eight hours a day risk organ damage and muscle degeneration in the long term, scientists warn. They'll also die sooner, think slower, and damage their backs.
Health advocates now promote the virtues of the standing desk, but there's another way. Sitting is inevitable, so why not teach people how to do it right? Darma is a smart cushion that aims to do just that.
The humble device looks like any other seat cushion, yet it contains a couple of hidden sensors. It detects your breathing patterns and stress levels, measures your heart rate, and determines your sitting posture.
Based on those readings, Darma prompts you to stand up and stretch if it finds you've been sitting for too long, nudges you towards the proper, upright sitting posture, and reminds you to meditate. It works in concert with an iOS app to give guided meditation and dish out a training program to release sitting stress and relax your back.
The Singapore-based startup is prepping for a Kickstarter campaign that will launch before the end of 2014.
Darma's foundation consists of a fiber-optics sensor that's embedded into the cushion. Micro-movements cause the transmitter to send light to the receiver. The differences in light transmission over time map out your breathing rate and other bodily movements, says Junhao Hu, the CEO and founder of Darma who has a PhD in optical communication, optical fiber sensor, and short pulse measurement.
While the fiber-optics sensor detects movement accurately, it can't figure out the direction of the motion. To fix that, Darma adds a pressure sensor to the mix which knows whether you're leaning forward, backward, or sideways.
Sleeping or sitting?
Hu didn't originally set out to build a device to improve how people sit. While office workers slog eight hours in the office each day, they probably spend an equal amount of time sleeping. But building a smart cushion for sleeping folks presented a problem.
"With a sleep cushion, we could monitor but not improve your sleep. It's not easy, for example, to automatically adjust the air-con temperature once the cushion detects that you're feeling too cold," says Hu.
Further, after joining HAXLR8R, a Shenzhen and San Francisco-based accelerator for hardware startups, mentors advised the team to focus on one use-case.
"The market for a smart cushion is big, and we can give instant improvement to people who are sitting too long."
Hu hasn't ruled out refocusing on the sack, but he's waiting for smart home technology to mature. Apple's HomeKit platform feels like a step forward. It could unify the disparate protocols governing intelligent appliances, making it possible to control the entire home from your smartphone.
But until that day comes, Hu will concentrate on bringing his smart cushion to the masses. He's enlisted plenty of help.
Darma's founding team consists of a hardware and manufacturing expert as well as a software developer, covering most of the company's bases. They've engaged former NASA scientist Joan Vernikos as an advisor on sitting health issues. Jeffrey Paine, founder of Founder Institute Singapore and a partner at Golden Gate Ventures, is a mentor.
Aside from the US$25,000 from HAXLR8R, Darma has received a S$50,000 (US$40,000) grant from iJam, a startup funding program administered by the Singapore government's Media Development Authority.
Breathe in, breathe out
Once Darma's Kickstarter campaign kicks off, backers can pre-order the device at US$149. After that, it will cost US$249 in retail stores. Beyond the office, individuals can use the cushion at home or in their cars.
The name Darma comes from 'dharma', a Hindu and Buddhist concept which means 'to live one's life according to natural universal laws'. Hu, unsurprisingly, is an avid practitioner of yoga and meditation, and he wants to spread their benefits through his startup.
Darma senses when you are going through elevated levels of stress by measuring your heart rate. Once it reaches a threshold, the app will prompt you to drop what you are doing and meditate. Darma then goes beyond that. It can also evaluate how well you're meditating.
"Many apps only teach you how to meditate, but Darma also sends you feedback to guide your meditation. It tracks you in real-time. You'll know how well you're doing, because it can measure your respiration, and when you're breathing in and out."
The stand-alone cushion is just the first step. Hu wants to integrate Darma into office chairs, but that needs resources which the burgeoning startup lacks now.
He plans to sell the cushion to companies too, reasoning that if Google can shell out thousands of dollars for each standing desk for their staff, getting them to fork out a few hundred more wouldn't be a problem.
"We fill the gap between buying an expensive chair or a standing desk. We're about value, not price."