The rise and fall of Indonesia's popular online marketplace Multiply has been one of the biggest stories in the country this year. Things were looking good from a bystander's point of view last year as the team was preparing to revamp the shopping site and brand in order to boost its effort to be Indonesia's and Southeast Asia's number one marketplace. After that revamp, everything went wrong and soon Multiply was shut down.
While we have our own thoughts as to what went wrong, Multiply's former Indonesia country manager Daniel Tumiwa (pictured right) held a sharing session yesterday to answer that question himself. One of the main objectives of the session – run by the Association of E-Commerce Indonesia (Idea – was to help grow the industry by sharing what he learned during his tenure at Multiply. Daniel himself is also the chairman of 'Idea.' Here's what he had to say:
Why Multiply was shut down
Daniel underlines the fact that when he was first recruited into the team two and a half years ago, the objective he got from Multiply's investors was clear: build a world-class team, and be the marketplace king in Southeast Asia. And that they must not fail at any cost. The investors were very serious and determined to make Multiply huge in the region's fast-growing e-commerce industry.
Along the way, the team consistently achieved its targets. They were recording 100 percent transaction growth on a monthly basis, from just 40 transactions a day up to 1,800 daily transactions, and the number kept on growing until its surprise closure.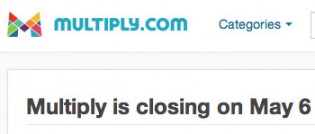 However, Daniel said that it took too much time for the team to revamp the site. They were still fulfilling their targets during that transition (as the blog platform was closed down to focus fully on e-shopping), but investors MIH saw that while Multiply was moving at a good speed, MIH's other major portfolio company in the country, TokoBagus, was accelerating at even faster speed. He points out that the C2C marketplace business model still works very well in Indonesia, just not as well as the product listing online shopping model used by players like TokoBagus.
Multiply announced its decision to shut down on Friday, April 26th. Daniel said that he received word from the investors just two days before, on Wednesday. "We prepared all the necessary things inside those two days," Daniel recalls; he announced the shutdown decision to his team twice, and then handed them written statements about what happened and gave their severance packages to ensure that his employees didn't think that Daniel was joking.
Just say no to bank transfers
I found two interesting points to Daniel's Multiply story that people in the e-commerce industry should take note of. The first one is that he regretted not saying "no" to the inter-personal bank transfers as a payment option between buyers and sellers. The site had two types of merchants when it came to payment methods: one kind had five to six Blackberry phones, each catering to one bank account notification from the store's buyers; and the other type who made use of Multiply's escrow payment system.
Daniel wanted to cater to the site's merchants who preferred personal bank transfers, because though it's a laborious and old-fashioned system, there are some people who do not like change, or who didn't trust Multiply's escrow system yet. But these sellers, Daniel explains, became Multiply's biggest problem. Fraud, late deliveries, and numerous other problems were rife among merchants who avoided escrow. "I thought it's OK to let them sell via personal bank transfers by informing users that these are not Multiply's trusted sellers," he adds. But in the end, the badge didn't matter because users would still think that these sellers were trusted by Multiply. However, if the sellers are bad, then Multiply looks bad too.
He notes that in the end, the second generation of sellers, the ones that used Multiply's escrow payment system, eventually outnumbered the ones who stuck with old-fashioned cash transfers. He believes that this trend will keep on growing, whereby sellers would prefer to use a marketplace's online payment system rather than doing it all themselves.
Mobile is very important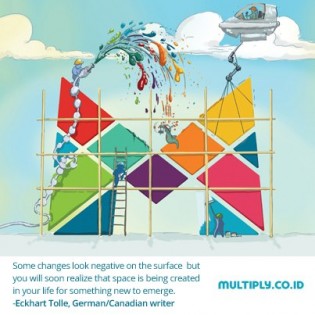 Another thing that Daniel highlighted is the fact that the confidence surrounding the e-commerce industry in Indonesia is rising very fast. Everyone's hearing more and more positive stories from people who bought stuff online, and he believes we can expect a huge rise in the e-commerce business within the next two to three years.
But if you really want to be an important player, then you need to cater to mobile users in Indonesia. Before Multiply was shut down, 40 percent of its transactions was done via mobile browser. That is a huge fact that any online shops in Indonesia should heed.
We've seen notable e-commerce players in Indonesia like TokoBagus and Rocket Internet's Zalora taking this step by launching their own mobile apps recently.
"Multiply's Got Talent"
As the planned shutdown neared, Multiply held an event to let help its employees get hired by other companies called "Multiply's Got Talent." Daniel was happy to see about 86 companies signing up for the talent hunt. This freeing up of human resources in Indonesia's tech sector is one of the things that Ideosource director Andy Boediman pointed out when summing up the positives to Multiply's downfall.
Now Daniel has taken on another job in the e-commerce industry as vice president of the e-commerce division at Indonesia's flagship airline Garuda Indonesia.
(Edited by Steven Millward)