China can be a dangerous place to live. Sure, there's not much in the way of violent crime, but the very air and water may be plotting to kill you with contaminants at any moment. Moreover, it's not always easy to know at a moment's notice what kind of dangers might be specifically in your area, or whether a new place you're planning to move to is actually a block from a toxic waste disposal plant. That's where Danger Maps comes in. This Chinese startup has tracked health hazards across China, and its site allows users to search for an address to see the potential dangers mapped out around it.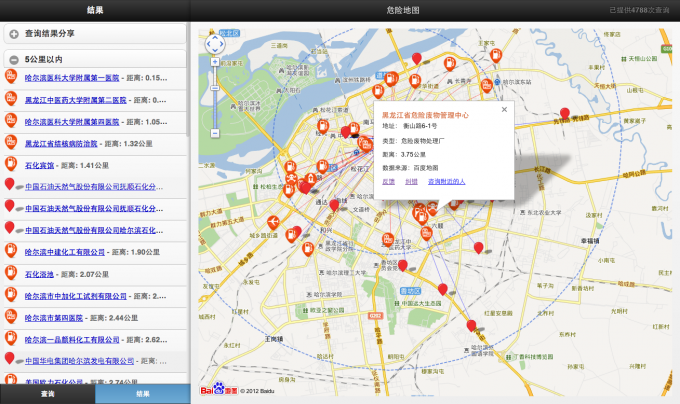 As you can see from the screenshot above, the web app is very slick and clean, and quite detailed. It lists dangers of all kinds, from gas and oil companies to radiation hazards to cemeteries, and it also helpfully lists hospitals. The danger map is laid over Baidu Maps, which means it's pretty accurate, and I checked a couple addresses of places I have lived and visited both in cities and in the countryside, and found the results to be reliable and interesting (if also a little terrifying). The next time you move house in China, checking your new address on Danger Maps first is probably a good idea. (If you're outside of China, you're out of luck; the service only covers China at the moment).
As you may have guessed from the lack of advertisements, Danger Maps is a not-for-profit venture that was created by volunteers as a public service. The team behind it is called the IT Engineers for Environmental Protection Association and it has created similar products, like the 'Share Photos of Pollution' mobile app, before. Team member Tian Yu explained to me that like many of the other team members, his reason for creating Danger Maps was personal:
I myself am a victim of environmental pollution. [The place where I live] in Shanghai is right next to a landfill, and foul smells often emanate from it. In June of this year there was a mass protest over the building of an extension to the landfill for burning trash. I thought, if I had known about the environmental situation here when I was buying a house, perhaps my decision would have been more well informed and maybe I wouldn't have bought the house at all.
Tian told me the locations listed in Danger Maps come not only from what's already included in Baidu Maps, but also from public information on the websites of China's environmental protection agency and city environmental management departments. The site has processed nearly 5,000 queries so far and the team is promoting it via weibo and other social media, but their ultimate goal is to create an open platform in cooperation with other environmental protection groups that would allow users to report and map environmental hazards and incidents (among other features). That project is currently in the planning stages.