A long time after its rumored April launch, Chinese e-commerce site Dangdang (NYSE:DANG) has just unveiled its own e-reader. Called the Doucon, it has a Kindle-esque e-ink screen and is tightly integrated with Dangdang's own e-book store which launched in December of last year, supporting the purchasing of e-books from within the Doucan device.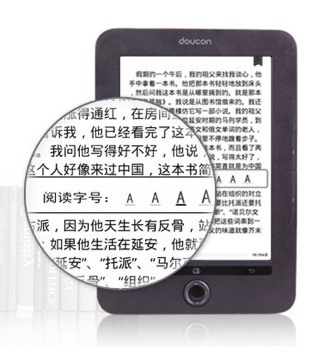 Dangdang's e-reader will sell for 599 RMB (US$95), though the first 10,000 units are being let go for just 499 RMB. Here's its product page on Dangdang. As for specs, it will be a tiny bit smaller that the Amazon Kindle, yet 10 grams heavier:
6-inch e-ink screen
800 x 600 pixels resolution screen
Android 2.2
4GB of onboard storage
8.5mm thick body
230 grams
It also comes pre-loaded with 500 e-books, including the entire top 10 list of bestsellers on Dangdang's e-bookstore. But since it seems to support all sorts of formats, users can always side-load a bunch of PDFs or ePub files from wherever – such as search engine giant Baidu, and its online library of e-book titles.
The Dangdang Doucan will be up against the Shanda Bambook, the Fan Shu Yambook (in which Baidu invested last year), and a whole host of minor brand manufacturers. Amazon's Kindle has never launched officially in China, so that's not really a factor.
Recently we looked at a survey which claims that Chinese consumers think e-books should cost a mere 3.5 RMB (50 cents) each, making it a tough proposition to make money from an e-bookstore.