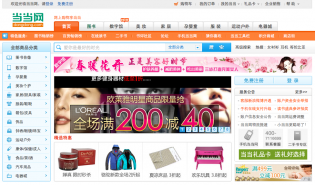 A few days ago, a number of Dangdang (NYSE:DANG) users reported that their accounts had apparently been hacked, resulting in the theft of some users' money in addition to gift items and other account assets. That's not too cool. But what is sort of cool is that Dangdang responded pretty quickly, freezing all accounts for a couple of days so users could change their passwords, and then getting to work on the compensation.
A Beijing Dangdang user who had 1078 RMB ($171) stolen logged into his account last week to find that the money had already been repaid by Dangdang. A Shanghai user who lost 4500 RMB ($714) in gift credits said that customer service had also offered him full repayment in store credit, although he rejected the offer because the credit came with an expiration date just a month away, which wasn't true of the gift credits stolen from him.
That case — and others — are still being worked out, but Dangdang has promised to make sure its customers are satisfied. We certainly hope that they will follow through on that promise, but honestly their speed in reacting to the crisis at all has been pretty impressive, especially when compared to some other people involved with e-commerce who shall remain nameless. Hopefully, the fast response time is a reflection of a growing trend in putting some effort into customer service, and not just a fluke!
[Beijing News via Sina Tech]