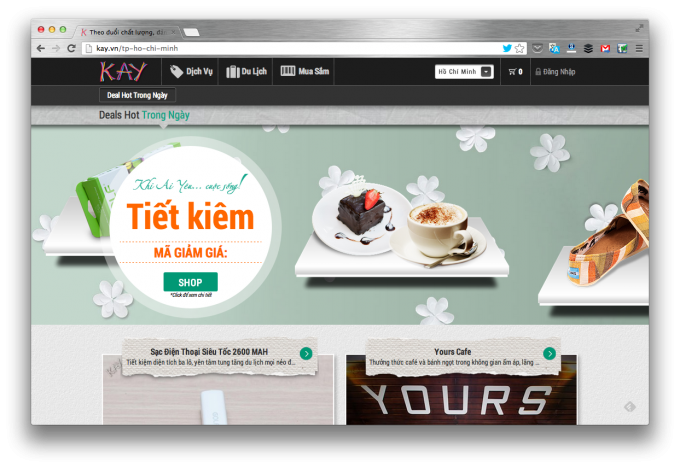 If you've been following e-commerce and daily deals in Vietnam, you know that Nhom Mua fell hard late last year due to internal issues. And in the midst of that, Nhom Mua's original founder, Tom Tran, got ousted. Well, Tom is back, with a new daily deals site to take on Nhom Mua, and it's called Kay.
For an already bloated daily deals market, where at one point in time over 90 players were vying for the market, it's an odd shot in the dark for Kay to step in, since it's going to have to work hard to catch up. Today, there are about four dominant players in Vietnam's daily deals market, namely Nhom Mua, Hotdeal, Mua Chung, and Cung Mua. What Kay does have going for it is a founder well-versed in how to make daily deals succeed.
When you take a look at the site, it's very clear and not so overwhelmed with deals like the current leaders. This could be because they're new, but it also makes for a nice interface. Kay features three services: services, tourism, and coupons, but the two former features have not been opened up on the site yet.
I've reached out to the Kay team, but according to Ngan from Action.vn, Tom usually hides from the media.