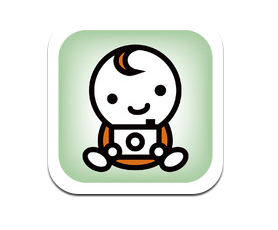 Here's a fun Friday app recommendation, as Hakuhodo DY Media Partners has released 'Daiby' for iPhone, an app that lets you record your baby's first few years.
There are a number of features included in this application. The most notable is the the photo-by-date function, which can be used like the many photo-a-day apps already on the market. But you can also add comments, and the app will note how many days old your baby is (i.e. this is the first day, tenth day, or 1,000th day).
Photos are stored locally on your iPhone which is a bit of bummer. Some kind of iCloud or Dropbox integration would have been nice.
The app can also transform your photos into a movie, with a soundtrack added. There's a sample video showing the end results below. While the app is free, one of ways it plans to make money is by charging for multiple slideshows, as well as certain advanced settings (see below.)
The feature which is most interesting however, it the information delivery system, which sends the parents useful information based on the babies age. This could be things like vaccination information, special offers, or other parenting information.
So far the Daiby application is in Japanese and English only, although apparently more languages are in the works, including Chinese.